THE LADY OF THE CAMELIAS
drama by Alexandre Dumas Fils
About Performance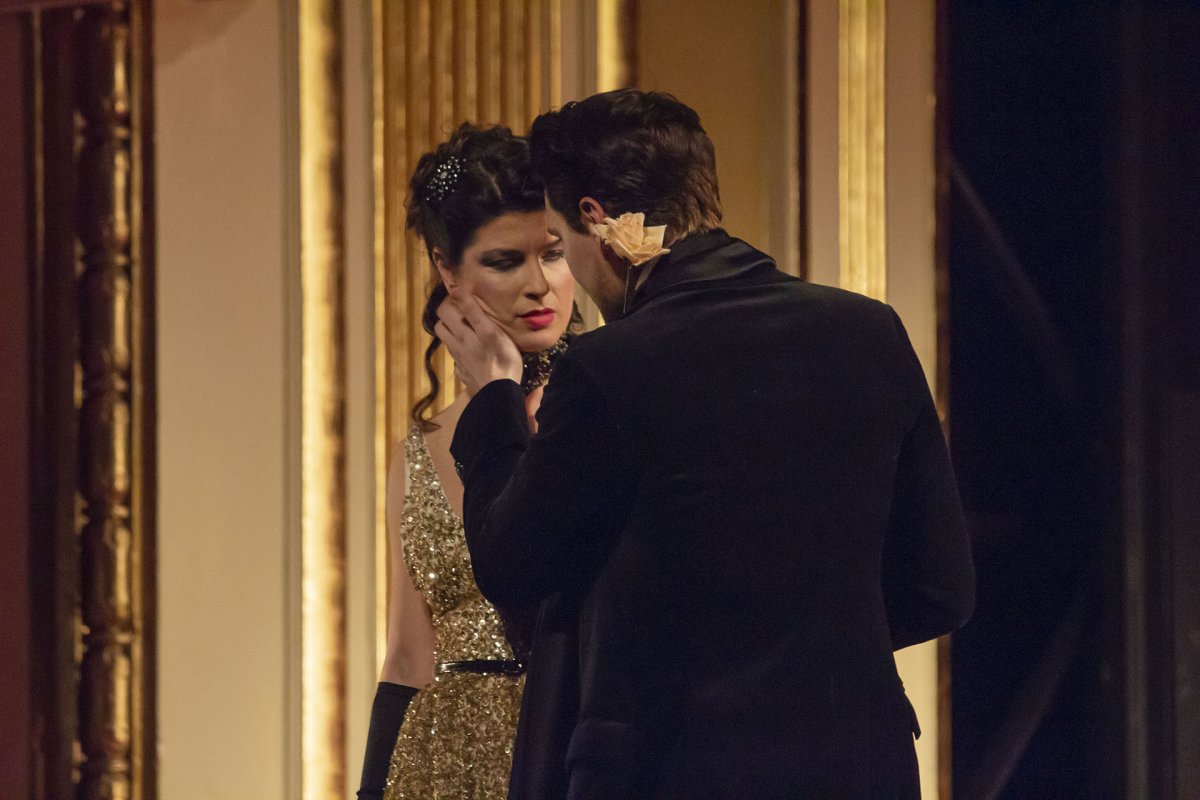 ABOUT THE PLAY
The tragedy of a kept woman, deplorable history of forlorn love, has been mourned at the end of the fifth act for almost fifty years without exception; it has been mourned in tears in numerous languages, regardless of the sex and age, but only on the stage, because Marguerites of the real life do not have that right. We can easily say that this is the saddest play of the nineteenth century. (…)
People who have previously dealt with the theme of repented promiscuous women had a completely opposite tendency in their mind. In the well-known novel Manon Lescaut (Prévost d' Exiles, 1733) and in The Courtisanes (Palissot, 1775), such characters die tragically in the end, regardless their pure love. Before The Lady of the Camellias, Augier's comedy L'Aventuriere was produced (1848), where the protagonist is a prostitute who wants to change, but the society does not accept her. Victor Hugo was the first one to try and succeed to evoke sympathy for his Marion Delorme. It was him who started the trend of a whole avalanche of such ladies, with or without camellias, who want to save a little part of their pure hearts from wreckage of their tumultuous lives. It was the bullet that killed Olympia in Augiere's play The Marriage of Olympia (1855) that marked the end of this false passion. Even Dumas himself changed his opinion and, later on, was a strict critic regarding all sinners of this sort. The artistic value of The Lady of the Camellias therefore is not in the idea, but in episodes filled with life and in provocatively portrayed events from Paris underworld.
Anonymous, The Lady of the Camellias, Theatre Magazine (editor Branislav Đ. Nušić), no. 32 and 33,
Published by the National Theatre in Belgrade, 1901
---
ALEXANDRE DUMAS, FILS (27 July 1824 – 27 November 1895)
Alexandre Dumas, fils, French author and playwright, was an illegitimate son of the famous Alexandre Dumas (The Three Musketeers, The Count of Monte Cristo). His father legally recognised him in 1831, which left a permanent mark both on him and on his works. At that time, the law allowed the elder Dumas to take the child away from his mother, therefore young Alexandre was sent away to a boarding school. His experiences in the school and, later on, at the university were painful, not only for his status of an illegitimate child, but also for the fact that his (paternal) ancestry was partly Haitian. He left the university with the idea to try his luck as a writer. He started writing poetry, but the attempt failed. He continued writing, this time novels, nonetheless, he was unsuccessful. In 1844, he moved to live with his father. In that period, he met Marie Duplessis, a famous Parisian courtesan. The love story between the courtesan, supported by rich clients, and poor and jealous Dumas lasted for about two years and was doomed from the beginning. Marie Duplessis died from tuberculosis while Dumas was away on a journey. The love story was an inspiration for his famous novel The Lady of the Camellias, which became his most popular work. He adapted the novel into a play – Camille, which was also tremendously successful and served as a basis for Verdi's opera La traviata. After having written The Lady of the Camellias, Dumas fils did not engage in writing novels any more. The Lady of the Camellias has seen numerous adaptations for film and TV worldwide. Maybe the most famous version is the one by George Cukor from 1936, with Greta Garbo and Robert Taylor. In our country, the drama had been produced in numerous theatres; in 1968, a TV drama, directed by Milenko Maričic, was produced. In 1874, Alexandre Dumas, fils, was accepted into the French Academy and in 1894, he was awarded the Legion of Honour. By pure chance, his and Marie Duplessis' graves are very close to each other. His works: plays: Le Demi-monde, The Illegitimate Son, Denise; novels: The Clemenceau Case (also adapted for film)…
According to: Maja Šahović, Alexandre Dumas Fils, www.unilib.bg.ac.rs
---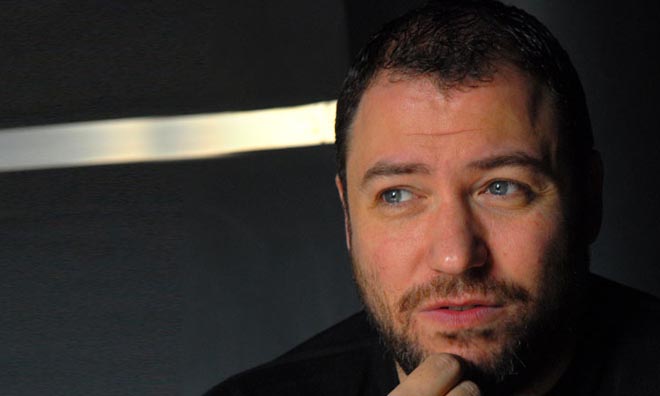 JUG RADIVOJEVIĆ
Jug Radivojević was born on 1 March 1972 in Belgrade. He finished his primary and secondary education, as well as primary music school (Department of Violin) in Vranje. Jug graduated from the Department of Theatre and Radio Directing at the Faculty of Dramatic Arts (FDU) in Belgrade, in the class of Professor Svetozar Rapajić. He has directed a total of 96 theatre productions in theatres in Serbia, Montenegro, Croatia and BiH. Selection of productions:
Theatre on Terazije: M. Brooks/T. Meehan The Producers, S. Sremac Priest Ćira and Priest Spira
Madlenianum: B. Nušić The Bereaved Family
"Boško Buha" Theatre: Đ. Milosavljević Dance in the Dark and Instant Sexual Education, C. Goldoni Mirandolina, E. Schwartz The Naked King
"Puž" Little Theatre: B. Milićević Kockica Robin Hood, I. Bojović Svirano de Bergerac
KPGT: A. P. Chekhov The Seagull, P. Handke A Winter Journey to the Rivers
National Theatre of Priština (Serbian Drama): J. Radulović The Pigeon Cave, D. Kovačević The Meeting Point
"Joakim Vujić" Theatre Kragujevac: Đ. Milosavljević The Naked Faith, M. Nastasijević At "The Eternal Tap" Inn
National Theatre of Šabac: D. Mihajlović Bums Having Tea, B. Stanković Jovča
National Theatre of Leskovac: Molière Don Juan
Theatre of Herceg Novi: B. Nušić A Trip around the World
National Theatre of Republika Srpska Banjaluka: N. V. Gogol The Auditor
HNK "Ivan Pl. Zajc" Rijeka and Budva Theatre City: C. Goldoni Mirandolina
Puppet Theatre "Pinocchio": I. Bojović The Red Riding Hood
Radivojević has won numerous awards:
Best Play Awards on festivals in Serbia and abroad: International Children's Festival in Kotor (two awards); International Children's Festival in Banjaluka; Festival of Children Theatre Plays "Festić" in Belgrade; "Joakim Vujić" Festival (three awards); Joakim InterFest in Kragujevac; Festival of Classical Plays in Vršac (two awards); Bora's Theatre Days Festival in Vranje; Days of Comedy in Jagodina (three awards); Nušić's Days in Smederevo; Sterija's Pozorje Festival in Novi Sad; International Festival "Abakan" in Russia; International Festival "Havana" in Cuba;
Best Director Awards in the following festivals: "Joakim Vujić" (four awards), "Festić" (two awards), Bora's Theatre Days (three awards), Days of Comedy (two awards), Festival of Classical Plays (two awards), Joakim InterFest, "Risto Šiškov" International Chamber Theatre Festival, Strumica 2013;
Other awards: Annual Award of the Theatre on Terazije and "Boško Buha" Theatre; Joakim Vujić Silver Ring Award, Golden Badge of KPZ, Award of the Fund "Dr Hugo Klajn".
In period between 2000 and 2004, he worked as a director in YDP in Belgrade. Starting from the academic 2004/05, he has been working as an Assistant Professor at FDU in Belgrade, at the Department of Acting. He is the father of a seven-year-old son.
---
A NOTE BY THE DIRECTOR
Love or hatred, good or bad, justice or injustice, sincerity or hypocrisy, empathy or envy, acting on behalf of the good or acting on behalf of the evil, giving support to or trapping somebody, faith and hope or disbelief and resentment, God-like or Devilish in us, unification or separation, path to joy or path to sorrow, enjoyment in happiness or enjoyment in sadness, striving towards humane or inhumane, theatre or galleries, truth on stage or a lie in corridors, striving towards beauty or towards darkness, helping or hurting, making or commenting, creating or criticizing, honesty or dishonesty, birth or death… you will decide for yourselves, this time as well – just as how much you will like or not this production of ours… maybe in galleries and corridors you will not like it, maybe you have already made up your mind, but then again, you may relax and try to avoid being yourself… maybe something unexpected may happen, somewhere deep inside … you don't have to admit it to anybody, nor to yourselves, just remain quiet, because in the end, there is only silence, or as our Nobel Prize winner liked to say – the world has suffered more misfortune from what was said than from what wasn't… so ssssshhhhhhhhhh……..
Director Jug Radivojević
Premiere performance
Premiere, October1, 2014 / Main stage

Adapted by Željko Hubač, after the novel and play by A. Dumas
Translation by Du­ša­n L. Đo­ki­ć
Director Jug Radivojević
Music and Arrangement Kornelije Kovač
Dramaturge Spasoje Ž. Milovanović
Set Designer Boris Maksimović
Costume Designer Bojana Nikitović
Stage Speech Dijana Diklić
Stage Movement IGOR Damnjanović
Assistant Director Daniela Todorović
Assistant Costume Designers Ivana Mladenović, Marija Marković, Ivana Rakić

Cast:
Marguerite Gautier Marija Vicković
Armand Duval Miloš Biković
Georges Duval Nebojša Dugalić
Prudence Stela Ćetković
Nanine Kalina Kovačević
De Varville Dimitrije Ilić
Gaston Rieux Aleksandar Đurica
Count de Giray Slobodan Beštić
Nichette Milena Đorđević
Gustav Lepomir Ivković
Olympia Bojana Stefanović

Piano and programming Kornelije Kovač
Violin Miloš Petrović
Violoncello Pavle Savić
Acoustic guitar Rastko Aksentijević
Music was recorded in ARETA Studio (August 2013)
Sound recording Vladimir Krkljus
Song Opet su lipe procvale
Music: Kornelije Kovač
Lyrics: Spomenka Kovač
Voice: Marija Vicković
Producer Barbara Tolevska
Stage Manager Miloš Obrenović
Prompter Sandra Todić
Lighti Operater Srđan Mićević
Make-Up Dragoljub Jeremić
Stage crew Chief Zoran Mirić
Sound Operater Tihomir Savić
SET AND COSTUMES WERE MADE IN THE NATIONAL THEATRE'S WORKSHOPS