THE NUTCRACKER
balet by P. I. Tchaikovsky
About Performance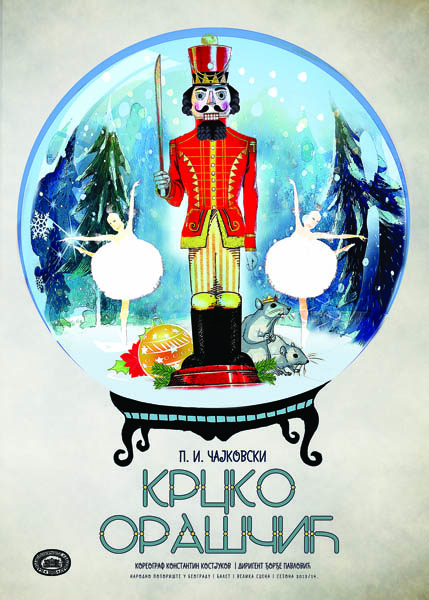 THE BALLET PRODUCTION FOR THE EMPEROR
Upon the success of The Sleeping Beauty, the director of Russian Imperial Theatres commissioned Tchaikovsky to compose a double-bill program featuring a ballet (The Nutcracker) and an opera (Iolanta). For the ballet, Tchaikovsky again joined forces with choreographer Marius Petipa, with whom he had collaborated on Swan Lake and The Sleeping Beauty. The material Petipa chose for the libretto was a story by Alexandre Dumas, The Tale of the Nutcracker, an adaptation of E.T.A. Hoffmann's story The Nutcracker and the Mouse King, written in 1819. The main character, Masha (Marie in the original, or Clara in other versions), experiences a classical clash between the good and the evil, as initiators of fantastic events and child's vivid emotions. Duality of male characters, Mouse King and Drosselmeyer, in contrast to the wooden doll Nutcracker and the Prince, just like the contrast between darkness and light, communicate her desire for a happy love and security of the magic boat. In the little girl's dream, the banal space of her room becomes a battlefield, or far and exotic countries. After the rehearsals started, in summer of 1892, Petipa became ill and his assistant, Lev Ivanov, took over to rehearse the ensemble and make certain adjustments in the choreography: just like the composer, Ivanov had to adhere to Petipa's detailed instructions. Nonetheless, Ivanov expressed his talent in the Waltz of the Snowflakes, which he choreographed for The Nutcracker, and later on, in the second act of the Swan Lake. The Nutcracker premiered in the Mariinsky Theatre in St. Petersburg on 18th December 1892. Russian Emperor, Alexander III, watched the premiere. Audiences deemed the first performance of The Nutcracker a success, while the critics described the choreography of the battle scene as weak and boring… Nonetheless, the grand scenes with the ensemble were praised, "abstract, but lyrical constructions, together with forceful score, reveal the talent of Lev Ivanov." Tchaikovsky was not keen on writing music for ballets. His artistic vision was greatly limited by required tempos, forms and periods. In a letter to his brother, when he wrote about this ballet, especially when the score for the second act is concerned, he was wondering "How can I write the score for Confiturembourg?" However, score of this third and last Tchaikovsky's ballet became tremendously successful and its popularity remains and even increases in the USA as the time goes by. George Balanchine, who danced and choreographed this ballet, said "The Nutcracker features music of Slavic origin. Also of other origins, like the Grandfather Waltz (Grossfatertanz) of German origin. The overture shows how much Tchaikovsky admired Mozart. The march in the first act was composed in Mozart-like style. Everything in The Nutcracker was created in pleasant style. People of St. Petersburg enjoyed eating cakes popular in Vienna at the time, and The Nutcracker is like one of them! Stravinsky loved the Chinese Dance, since Tchaikovsky first uses a small orchestra, but continues adding instruments until the full great orchestra is engaged, without changes in volume of sound."
Miloš Dujaković
---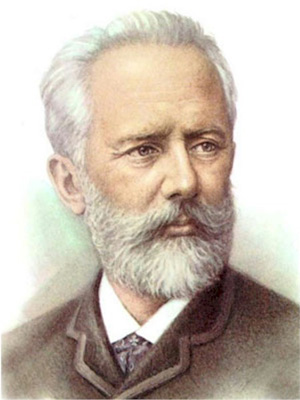 PETER ILICH TCHAIKOVSKY (1840-1893)
"One can not say what is the most admirable thing in Tchaikovsky's work: the symphony value of his ballets, their dancing qualities or the strength of expression and emotion. They are real dancing dramas." – Serge Lifar
While searching for vivid, real dramatics and psychological truth in opera, Tchaikovsky thought that ballet art was represented by fantasy of a fairy-tale. In this sense, Tchaikovsky follows the line of the romantic ballet based on numerous fantastic scenes and theatrically-expressive effects. With this in mind, he has creatively understood and approached the problem of ballet and reformed the traditional basis of this genre. Tchaikovsky followed two main lines in developing style characteristics of the romantic ballet. First of all, he has invented the pure chorographical principle by using extraordinary elastic and characteristic diversity. Tchaikovsky revived the known types of dance giving them extraordinary freshness and abundance of rhythmic and music plasticity, and, at the same time, showed a great talent for finding out the characteristic forms of dance movements required in specific tasks. In this sense, he used accomplishments of modern French ballet, and, especially, the art of Delibes, whom he appreciated very much. Another Tchaikovsky's novelty in the area of ballet music was the development of symphony mime elements. Tchaikovsky has shown the way to ballet symphonisation, the path later followed by Glazunov and Stravinsky in Russia, and by Ravel and his followers in France. Tchaikovsky is probably best known for his ballets composed in his mature years. Those ballets brought him the recognition of his contemporaries.
1872 – Swan Lake (Op.20) is his first ballet performed at first with some shortcomings, which the author straightened out later on. First performance took place in the Bolshoi Theatre.
1890 – The Sleeping Beauty (Op.66), a ballet performed for the first time in the Mariinsky Theatre in St. Petersburg. Tchaikovsky believed that this ballet was his best.
1892 – The Nutcracker (Op.71), a ballet commissioned from Tchaikovsky under the condition that the score adheres to detailed choreographer's instructions by Marius Petipa.
---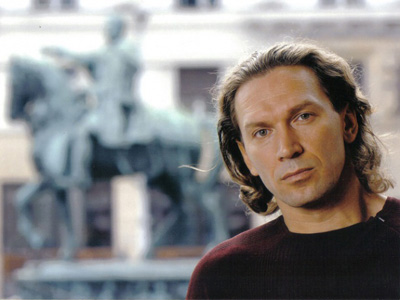 KONSTANTIN KOSTJUKOV
Upon finishing his ballet training in Kiev (USSR), he was engaged in the National Ukrainian Ballet Theatre "Shevchenko", where he received a title of a ballet soloist in 1987. Since 1991, he has been engaged in Ballet Company of the National Theatre in Belgrade as a principal dancer. Kostjukov graduated at the Department of Pedagogy and Choreography at the Ukrainian International Theatre Institute in Kiev in 2001. He interpreted numerous leading roles with much success in the National Theatre's productions: Don Quixote (V. Logunov), Swan Lake (D. Parlić), Giselle (L. Lavrovsky), Samson and Delilah (L. Pilipenko), The Sleeping Beauty (V. Logunov), Resurrection (L. Pilipenko), Carmen (V.Logunov), The Lady of the Camellias (L. Pilipenko), Scheherazade (L.Pilipenko), The Fountain of Bakhchisaray (R. Klavin), A Woman (L. Pilipenko), The Rite of Spring (D. Seyffert), Wolves (D. Seyffert), Autumn Rain (V. Logunov), Images (L. Pilipenko), Romeo and Juliet (A. Sekera), Dr Jekyll and Mr Hyde (V. Logunov), Tchaikovsky the Poet (L. Pilipenko), Odysseus (L. Lambrou), Queen Margot (K. Simić), Autumn Flowers (M. C. Pietragalla), The Impure Blood (L. Pilipenko), Isidora (J. Šantić – at 1992 BITEF Festival). Kostjukov has also interpreted numerous roles as a guest artist: in Novi Sad – Zorba the Greek (K. Simić), Carmen Suite (V. Logunov), Mayerling (K. Simić); in Skopje – Schubert (T. Schilling), Macedonian History (O. Milosavljev), Forceful Man Dies Twice (J. Slaneva-Hadzimanova), Don Quixote (V. Budarin), Giselle (R. M. Bot); in Chamber Opera House Madlenianum – Orpheus in the Underworld (K. Simić), Nijinsky – Golden Bird (K. Simić), The Traveller (V. Logunov). Kostjukov was an assistant choreographer in ballet productions Wolves by Dietmar Seyffert and Romeo and Juliet by Anatolij Sekera. Kostjukov performed on tours abroad and in renowned festivals in Bosnia and Herzegovina, Macedonia, Croatia, Cyprus, Slovenia, Greece, Spain, Columbia, Mexico, Canada, Germany, Switzerland, France, Cuba, Japan, Portugal, Russia, USA, Bulgaria, Romania, Hungary, Italy, Lebanon, China, etc. Amongst numerous awards he won during his prolific career are the following: Second Place in II Ballet Competition in Ukraine in 1987; First Place in IV Osaka International Ballet Couple Competition in Japan 1991; Awards of the National Theatre in Belgrade (Prince Siegfried in Swan Lake, 1991; Basilio in Don Quixote, 1992, Master in Scheherazade, 1994); October Award in 1994; Award by the Federal Ministry of Culture for artistic achievement in 1995; Award "Davidoff" for contemporary theatre expressions in season 1998/99 (Wolves and The Rite of Spring); "Zoranov brk" Award in Zaječar in 2002 (Orpheus in the Underworld); "Golden Ring" Award by the Cultural and Educational Association of Belgrade for permanent contribution to culture in 2003; Award "Anatolij Sekera" of the International Theatre Institute of Ukraine in 2002; Vuk's Award in 2007. In period November 2004 – 2011, he was a director of the Ballet Company of the National Theatre; and since November 2012, he has been an Acting Director of the Ballet Company of the National Theatre in Belgrade.
---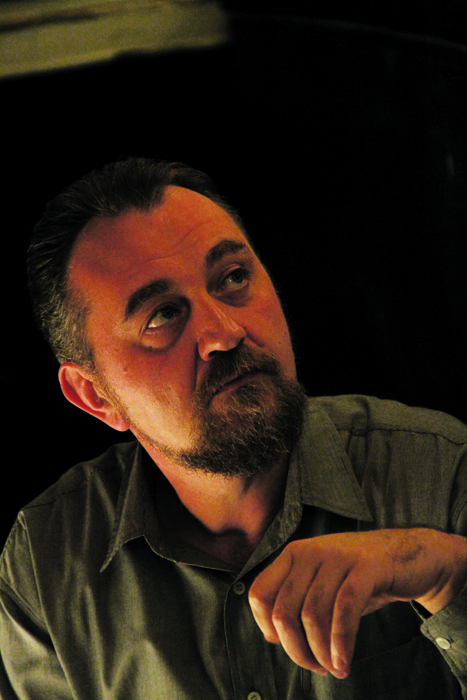 ĐORĐE PAVLOVIĆ
Đorđe Pavlović was born in 1965 in Loznica. He obtained his BA and MA degrees in conducting at the Faculty of Music Art in Belgrade in the class of Professor Jovan Šajnović. Pavlović has been working in the National Theatre Opera since 1992, where he conducted in operas The Bat, The Barber of Seville, The Troubadour, Traviata, Rigoletto, Attila, Nabucco, Don Carlos, Adriana Lecouvreur, La Boheme, Eugene Onegin and ballets The Sleeping Beauty and The Taming of the Shrew. In period 2000 – 2006, with the Choir of the Opera, Pavlović staged first productions of three comprehensive pieces, Heavenly Liturgy, Liturgy of St. John Chrysostom, and Holiday Evening Service by Svetislav Božić. Besides his work on operatic repertoire, he has been very active in concerts in our country and abroad, where he was engaged in promotion of Serbian music. Some of his performances outside the country were with the Ukrainian Radio Orchestra at Kiev Music Fest, as well as with Oxfordphilomusica Orchestra at the concert in Regent Hall in London. He has been a permanent guest conductor of State Symphony Orchestra from Zaporozje; besides giving numerous concerts with the Orchestra, he also produced a CD with them. Since May 2006, he has been working as a head conductor in Borislav PašćanYouth Philharmonic. He gave numerous concerts with the Youth Philharmonic and won the Gold Plaque of Kolarac's Legacy Award, at the celebration of 130th Anniversary of the cultural institution (in 2008), and Golden Ring of the Cultural and Educational Community of Serbia for his permanent contribution to culture (in 2009). He belongs to a generation of Serbian conductors who focus their spiritual and artistic growth on incessant source of national music by enriching their repertoire with pieces of spiritually similar music cultures.
Premiere performance
Premiere, 18 th March 2014 / Main Stage

Ballet in two acts
Book M. Petipa after the novel of E.T.A.Hoffman adapted by A.Dumas
Music Pyotr Ilyich Tchaikovsky
Choreography Konstantin Kostjukov
New choreographic version after M. Petipa and L. Ivanov
Sets & Costumes Angelina Atlagić
Conductor Đorđe Pavlović

Premiere cast:
Nutcracker Jovica Begojev
Masha Bojana Žegarac
Mr. Drosselmeyer Dejan Kolarov
I ACT/
Fritz Miloš Kecman
Mr. Stahlbaum Goran Stanić
Mrs. Stahlbaum Olga Olćan
Girls Margareta Bata, Tamara Silađi, Maša Tadić, Lidija Pavlović, Tatjana Tatić, Margarita Čeromuhina
Boys Dušan Milosavljević, Stefano Peskjuli, Čedomir Radonjić, Max Robertson, Marina Miletić, Valentina Đurašin
Parents Ivana Veselinović, Iva Ignjatović, Ivana Savić Jaćić, Nada Stamatović, Tijana Šebez, Verica Stanojević, Igor Gut, Taylor Clow, Balint Rauscher, Branko Sarić, Philip Tunstall, Igor Čupković
Maids Kristina Nikolovski, Dejana Zlatanovski
Drosselmeyer's mechanical dolls
Harlequin Kento Terašita
Columbine Ivana Komarić
Saracen Kengo Nishioka
The Mouse King Milan Rus
Mice Igor Karakaš, Aleksa Jelić, Dušan Milosavljević, Vladimir Panajotović, Stefano Peskjuli, Čedomir Radonjić, Max Robertson, Kento Terashita
Soldiers Mihajlo Stefanović, Igor Gut, Taylor Clow, Lojd Peči, Balint Rauscher, Branko Sarić, Philip Tunstall, Igor Čupković
Snowflakes Margareta Bata, Jovana Volf, Dragana Vujičić, Smiljana Stokić, Milja Đurić, Iva Ignjatović, Nelka Lazović, Jovana Nestorovska, Sanja Ninković, Maša Tadić, Ada Raspor, Ivana Savić Jaćić, Olja Đukić, Valentina Đurašin, Tamara Silađi, Tatjana Tatić
Angels MEMBERS OF THE RTS'S CHILDREN'S CHOIR
II ACT /
Sentinels Igor Gut, Branko Sarić, Philip Tunstall, Igor Čupković
Spanish Dance Milica Jević, Balint Rauscher
Arabian Dance Olga Olćan, Ines Ivković, Olja Đukić
Chinese Dance Sanja Ninković, Kengo Nishioka, Kento Terashita
Russian Dance Tamara Ivanović, Taylor Clow
French Dance - Pastoral Jovana Nestorovska, Milja ĐURIĆ, Nelka Lazović, Tamara Silađi
Flower Waltz Margareta Bata, Jovana Volf, Dragana Vujičić, Iva Ignjatović, Dejan Zlatanovski, Smiljana Stokić, Margarita Čeromuhina, Tatjana Tatić, Mihajlo Stefanović, Željko Grozdanović, Igor Gut, Lojd Peči, Max Robertson, Branko Sarić, Fillip Tunstal, Igor Čupković
Child Katarina Tričković

ORCHESTRA OF THE NATIONAL THEATRE TAKES PART IN THE PERFORMANCE
Acting Director of the Ballet Konstantin Kostjukov
Assistant Director of the Ballet Miloš Dujaković
Organisers Brankica Knežević, Gojko Davidović
Ballet Associates Marija Vještica
Concertmaster Edit Makedonska
Music Associate Elena Koltiga
Costume Designer-implementer Snežana Peši Rajić
Set Designer-implementer Magdalena Vlajić
Light Operator Miodrag Milivojević
Make-Up Dragoljub Jeremić
Set crew Chief Zoran Mirić
Sound Operator Tihomir Savić
Stage Managers Brankica Pljaskić, Ana Milićević