About Performance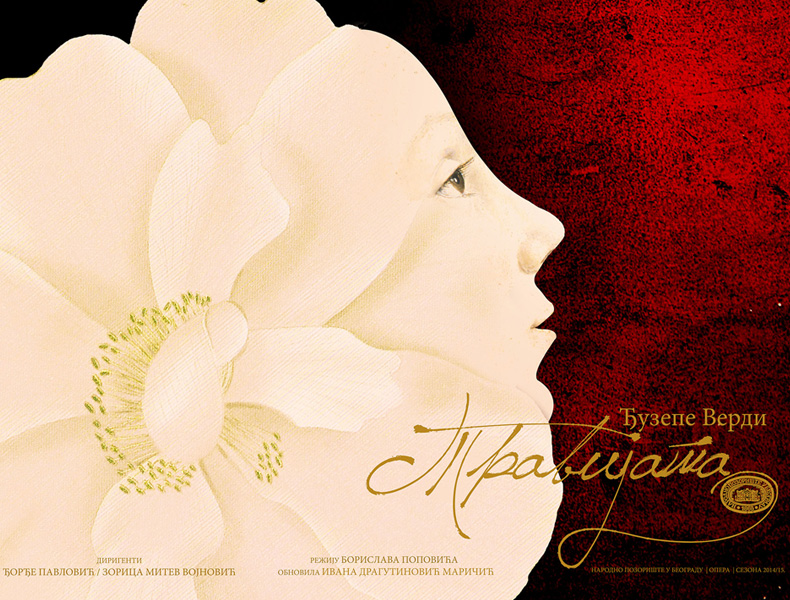 SYNOPSIS
Act I
Violetta Valéry knows that she will die soon, exhausted by her restless life as a courtesan. At a party she is introduced to Alfredo Germont, who has been fascinated by her for a long time. Rumor has it that he has been enquiring after her health every day. The guests are amused by this seemingly naïve and emotional attitude, and they ask Alfredo to propose a toast. He celebrates true love, and Violetta responds in praise of free love. She is touched by his candid manner and honesty. Suddenly she feels faint, and the guests withdraw. Only Alfredo remains behind and declares his love. There is no place for such feelings in her life, Violetta replies. But she gives him a camellia, asking him to return when the flower has faded. He realizes this means he will see her again the following day. Alone, Violetta is torn by conflicting emotions – she doesn't want to give up her way of life, but at the same time she feels that Alfredo has awakened her desire to be truly loved.
Act II
Violetta has chosen a life with Alfredo, and they enjoy their love in the country, far from society. When Alfredo discovers that this is only possible because Violetta has been selling her property, he immediately leaves for Paris to procure money. Violetta has received an invitation to a masked ball, but she no longer cares for such distractions. In Alfredo's absence, his father, Giorgio Germont, pays her a visit. He demands that she separate from his son, as their relationship threatens his daughter's impending marriage. But over the course of their conversation, Germont comes to realize that Violetta is not after his son's money – she is a woman who loves unselfishly. He appeals to Violetta's generosity of spirit and explains that, from a bourgeois point of view, her liaison with Alfredo has no future. Violetta's resistance dwindles and she finally agrees to leave Alfredo forever. Only after her death shall he learn the truth about why she returned to her old life. She accepts the invitation to the ball and writes a goodbye letter to her lover. Alfredo returns, and while he is reading the letter, his father appears to console him. But all the memories of home and a happy family can't prevent the furious and jealous Alfredo from seeking revenge for Violetta's apparent betrayal. At the masked ball, news has spread of Violetta and Alfredo's separation. There are grotesque dance entertainments, ridiculing the duped lover. Meanwhile, Violetta and her new lover, Baron Douphol, have arrived. Alfredo and the baron battle at the gaming table and Alfredo wins a fortune: lucky at cards, unlucky inlove. When everybody has withdrawn, Alfredo confronts Violetta, who claims to be truly in love with the baron. In his rage Alfredo calls the guests as witnesses and declares that he doesn't owe Violetta anything. He throws his winnings at her. Giorgio Germont, who has witnessed the scene, rebukes his son for his behavior. The baron challenges his rival to a duel.
Act III
Violetta is dying. Her last remaining friend, Doctor Grenvil, knows that she has only a few more hours to live. Alfredo's father has written to Violetta, informing her that his son was not injured in the duel. Full of remorse, Germont has told his son about Violetta's sacrifice. Alfredo wants to rejoin her as soon as possible. Violetta is afraid that he might be too late. The sounds of rampant celebrations are heard outside while Violetta is in mortal agony. But Alfredo does arrive and the reunion fills her with a final euphoria. Her energy and exuberant joy of life return. All sorrow and suffering seem to have left her – a final illusion, before death claims her.
Taken from: www.metopera.org
---
ON LA TRAVIATA
All his life Giuseppe Verdi has relentlessly searched for new, daring and interesting stories which could be transformed into opera librettos. Thus, the novel The Lady of the Camellias by Alexandre Dumas, fils, published in 1848, attracts Verdi's attention and becomes a point of discussion in wide range of social circles… Five years later, he becomes impressed with a stage version of the novel in the Theatre Vaudeville, and then he and Piave, a librettist, write the central points of the plot. It took only about forty days to compose the opera! The first premiere took place in the La Fenice Opera House in Venice…
During negotiations with the Venetian theatre, Verdi insists on having suitable actors for main roles, because he is aware that the opera introduces new and unusual elements: the plot, which will be presented, is set in modern times, well known and lived by the audiences. At its opening on 6 March 1853, La traviata regrettably fails. In his letter to Emanuele Muzio, his student and associate, Verdi says, "La traviata last night a failure. Was the fault mine or the singers'?... Time will tell." … Three reasons for failure were pointed out. Firstly, the singers: Violetta Valerie was interpreted by Fanny Salvini-Donatelli, an overweight woman obviously in the best of health, who caused audience to chuckle watching her in the dying scene. Lodovico Graziani, a tenor who interpreted Alfredo, had problems with his voice; and Felice Varesi, a baritone, did not show interest in his role, so he gave a bad performance of Germont's aria, an aria very popular today. Secondly: Verdi and Piave have for inexplicable reasons allowed the use of costumes from the period of Luis XIV, which has completely changed the viewers' correlation to the contents of the opera. Thirdly: the novelty of the plot, namely lack of audience's readiness to see and appreciate the criticism of the world where money is the only thing held in high esteem and where everything could be bought. However, Verdi was convinced that his opera possesses values, and in the next opening, planned for 6th May the following year (1854) in San Benedetto Theatre, also in Venice, the title role was interpreted by the unique Maria Spezia and due to her portrayal of Violetta the premiere was a great success. La traviata generally became a great success in the opera world, thus the fame of the opera helps keeping the Dumas' play on stages…
Konstantin Vinaver (1980)
---
WHY THE RED CAMELLIA?
Dumas' Violetta has always come to the theatre with a bouquet of camellias – 25 days in a month, those were white camellias and for 5 days, they were red… I believe that every woman can immediately grasp the subtle indication that when the camellias are red, Violetta is to go home alone. The men could find it a bit more difficult to understand this womanly sign, therefore I have never seen a production, directed by a man, in which Violetta gives a red camellia to Alfred (or to Armand, in the novel), thus postponing their intimate encounter until the flower withers away, or until the following day. All directors, whose productions I saw either in opera, or in drama staging, have romanticised the gesture of giving a flower, so they have always placed a white camellia into Violetta's hand, not recognising the information, given to her most intimate friends and a current lover, that she is unavailable at the moment, or that "she is having a headache tonight", as we would say today. This detail and several minor changes represent my contribution to the production in order to improve it, and I believe that our dear Bora Popović would not hold that against me. Because, everything we did - was done with reverence to our Bora.
Ivana Dragutinović Maričić
Premiere performance
Premiere Revival on 4th October 2014 / Main stage

Opera in four acts (four scenes)
Libretto by Francesco Piave, based on the novel by A. Dumas, fils
Conductor Đorđe Pavlović / Zorica Mitev Vojnović
Stage directing by Borislav Popović revived by Ivana Dragutinović Maričić
Set Designer Boris Maksimović
Costumes by Božana Jovanović revived by Olga Mrđenović
Choreographer Vladimir Logunov
Video Petar Antonović
Premiere cast:
Violetta Valéry Sanja Kerkez / Snežana Savičić Sekulić / Gordana Tomić
Alfredo Germont Dušan Plazinić / Dejan Maksimović / Janko Sinadinović
Giorgio Germont Miodrag D. Jovanović / Vuk Zekić / Vladimir Andrić
Flora Bervoix Svetlana Nestorov / Ljubica Vraneš / Tamara Nikezić / Višnja Radosav
Annina Tatjana Mitić / Jovana Belić
Doctor Grenvil Sveto Kastratović / Mihailo Šljivić
Baron Douphol Pavle Žarkov / Aleksandar Pantelić
Gastone, Viscount of Letorières Igor Matvejev / Darko Đorđević / Danilo Stošić / Slobodan Živković*
Marquis d'Obigny Mihailo Šljivić / Aleksandar Pantelić
Giuseppe Slobodan Živković*
Messenger Danilo Stošić

* Member of the "Borislav Popović" Opera Studio
Violetta's and Flora's friends and servants.
The story takes place in Paris and its surroundings in 1840.
Ballet solo: Olga Olćan, Mihajlo Stefanović, Goran Stanić
CHOIR, ORCHESTRA AND BALLET ENSEMBLE OF THE NATIONAL THEATRE IN BELGRADE
Concertmasters Edit Makedonska / Vesna Jansens
Chorus Master Đorđe Stanković
Stage Conductor Stefan Zekić
Music Associates: Srđan Jaraković, Nevena Živković, Nada Matijević, Gleb Gorbunov, Stefan Zekić, Marko Bogdanović
Ballet Repetitor Paša Musić
Prompter Silvija Pec / Biljana Manojlović
Stage Manager Ana Milićević / Branislava Pljaskić / Mirjana Goločevac
Organisers Maša Milanović Minić and Snježana Vujasinović Đorđević
Assistant Costume Desinger Sara Bradić
Make-Up Master Dragoljub Jeremić
Lighs Operator Petar Alagić, Miodrag Milivojević
Set Crew Chief Zoran Mirić
Sound Operator Roko Mimica
SET AND COSTUMES WERE MADE IN THE NATIONAL THEATRE'S WORKSHOPS

First premiere on 6th March 1853, Venice
The production premiered on 30th December 1991