Mezzo Soprano Aleksandra Angelov Recipient of "Breda Kalef" Foundation Award
25 March 2022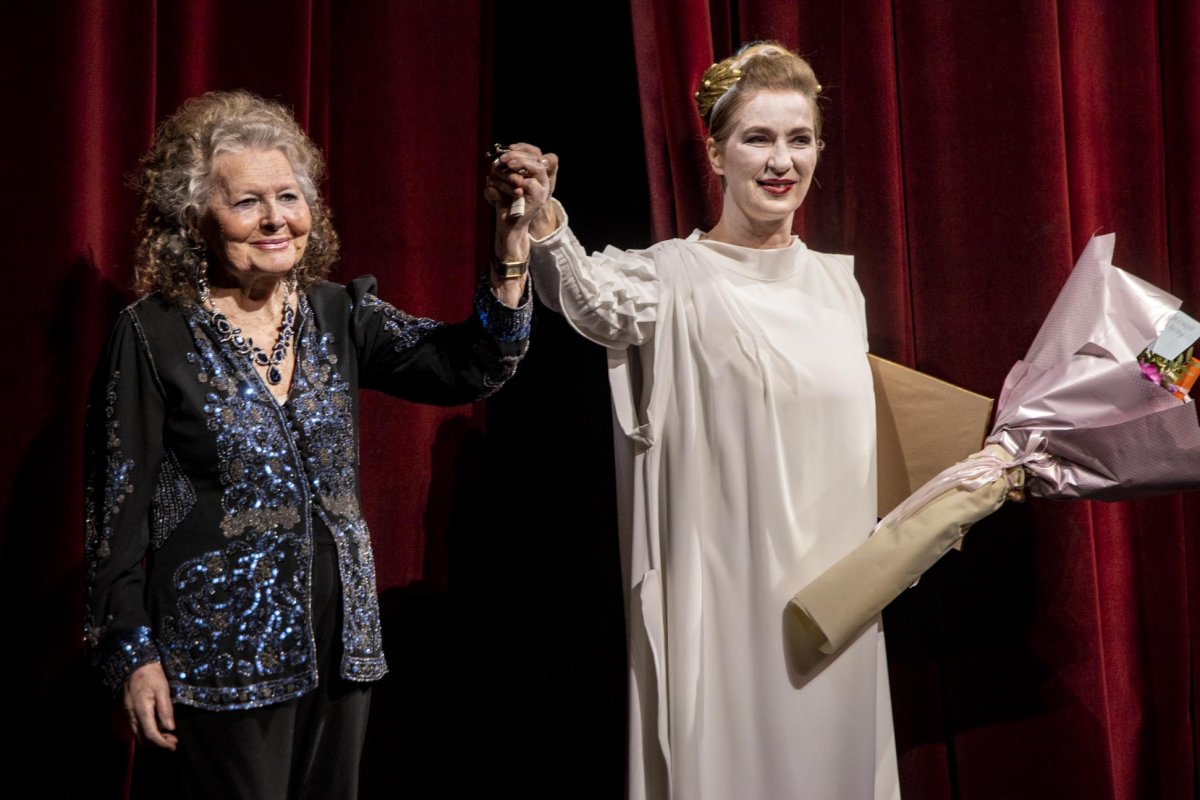 "Breda Kalef" Foundation Award for the Best Interpreted Mezzo Soprano Role in the previous season on the National Theatre stage was presented to Aleksandra Angelov on March 23.
This principal opera artist of the National Theatre was presented this award for her interpretation of Orpheus in Christoph Willibald Gluck's opera "Orpheus and Eurydice".
At the ceremony held the night before the opera was performed, she received the award from Mrs. Kalef, a former Principal Opera Artist of the National Theatre in Belgrade, who sang more than 50 leading mezzo-soprano roles on this stage during her long and prosperous career.
The unanimous decision was made by the jury, which, in addition to Breda Kalef, included Dragan Stevović, Vesna Stefanović and Mirko Levi.
Aleksandra Angelov thanked Breda Kalef for the award, stressing that she was very proud and happy that she received the award from her personally – as she is an exceptional artist, a member of the "golden generation that brought European fame to the opera of the National Theatre."
"I could not have created this role without my wonderful colleagues with whom I prepared this show. Although we are all individuals here, we cannot do without each other. I think that this award is, after all, for all of us ", Aleksandra Angelov said, who was greeted by the audience, as well as Breda Kalef, with a long and loud applause.
In her short speech, Angelov revealed that Mrs. Kalef was her inspiration for the role of Dulcinea in "Don Quixote", which she sang in 2003 in the chamber opera of the same name, which was performed on the "Raša Plaovic" stage, conducted by Angel Shurev, with Živan Saramandić in the title role.
All domestic and guest female singers who perform in the operas of the National Theatre in one season competed for this award, the only one in our country intended for mezzo-sopranos.
The award was established in 2016, and the previous winners are Jelena Vlahović, Višnja Popov and Nataša Jović Trivić.
Gluck's opera "Orpheus and Eurydice", based on a libretto by Ranieri de Calzabigi, conducted by our Bulgarian guest Dian Chobanov, directed by Aleksandar Nikolić and choreographed by Aleksandar Ilić, premiered on June 23 last year on the Main Stage.