About Performance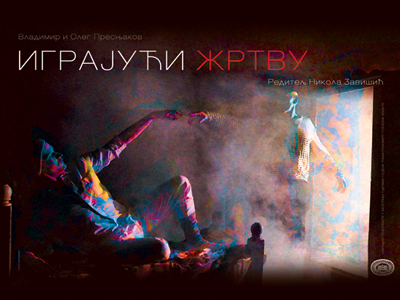 Interview with the director
CHEKHOV, HARMS AND MONTY PYTHON
Why did you accept to work on Playing the Victim by the Presnyakov brothers?
Well, once the offer was on the table… I accepted it because I find it very appropriate. The issue is that it's a combination of Harms and Monty Python, on one side, and on the other, there's a Russian deep, emotional narration, similar to Chekhov. I find tackling of boundaries between them very rewarding. I like working on a farce, i.e. comedy, but a comedy with a deep sense and meaning, based on society it portrays. The play is about the Russian society, a society very similar to our own, only much bigger. We are a micro-universe similar to the situation in the play. General chaos and "brain blast" of every individual when faced to impossibility of involvement in the social system. Everything is a theory of "chaotic chaos", which is a fertile soil for comedy, not for comedy for the comedy sake, but for a comedy with a profound consequence.
What do you find appealing about the play? Why would you recommend the play to the audience?
My recommendation to the audience, especially to the ladies, is to come and see Slobodan Beštić. The play is very comic, but not a classic vaudeville. This is a comedy of situation, but at the same time, it is a satire, a criticism of society. My basic concept is chaos. Recycling, constant pretending, playing games, lying and deception. The main character is constantly acting, "deceiving". An advantage of the play is that it lasts for one hour and twenty minutes. It will definitely be entertaining and it doesn't last for too long!
What are your experiences, expectations and ambitions, since this is the first time you work in the National Theatre? Can you see yourself in a new project in this theatre?
Well, since I knew that this institution is a large and complicated apparatus, I started with minimalism, but it, eventually, turned into maximization. Generally speaking, I am very happy, because all the sectors I cooperated with are great, as well as all the people I cooperated with directly. I am very satisfied to have made an excellent cooperation with the Drama Director. The working atmosphere was great and that rarely results in failure. Regarding my future in the National Theatre, I did imagine myself making a huge performance on the Main Stage for the whole ensemble, i.e. departments of opera, ballet, drama; and the performance should last only for five minutes. Of course, that should be a surprise.
Jasmina Urošević, "Pozorišne novine", No 38, November 2009, Belgrade
---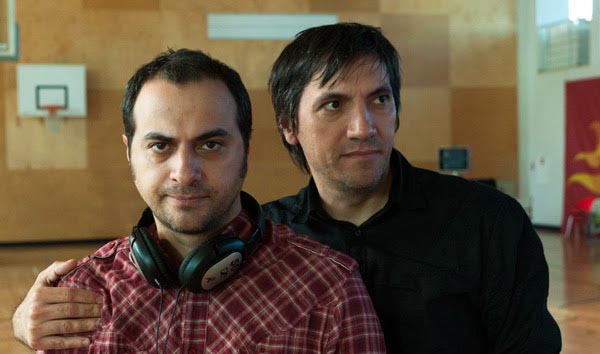 VLADIMIR AND OLEG PRESNYAKOV
The Presnyakov brothers (Vladimir and Oleg) are amongst the most significant Russian contemporary playwrights. Their plays are being performed very frequently all over the world. Besides being the playwrights, they are screenwriters, directors, producers and, very often, actors in their own plays. They write the texts "in tandem". They are the sons of an Iranian mother and a Russian father. Oleg Presnyakov was born in 1969 and Vladimir in 1979. They both graduated from Maxim Gorky Urals State University in Siberia. Vladimir is MA and Oleg is PhD in Philology. They both lectured for a long time at the University. Oleg taught theory of literature and philology and Vladimir theory of literature and psychology. They live in Yekaterinburg, Urals, the city where Koljada lives. While at the University, they formed a youth theatre group for production of experimental plays. Their language is very specific and the topics are focused on life in post-Soviet Russian culture. Their plays are black-humoured, bitter, but they represent a witty portrait of modern Russian society. Since their first play appeared in Moscow, they became a sort of the best-known "Russian theatrical trademark." Their plays are being performed in many theatres in Europe and worldwide. Their global popularity came with Terrorism; but Playing the Victim, first performed in 2003 in Edinburgh Festival by Royal Court Theatre, London, even surpassed the Terrorism by number of performances.In the play, the Presnyakov brothers put emphasis on the fact that we are all victims to the time we live in and it would be better if we accept it as soon as we are born. Any attempt to escape this fact is futile in their opinion. The play ends with father's words:
"… so you play games and you think you outwit everybody? What if he, the one we all depend on, plays games as well? Everybody plays games, pretends… it is difficult to be what you really are, it's a lot of responsibility… it is easier to pretend, play games… disappear… but, he, who knows his job well, is aware that nothing ever disappears…"
When asked how much he thinks the play will be close to our audience, Novica Antic, the translator, said in his interview in the Vecernje novosti newspapers:
"Very much so! We know black humour. It is always accompanied by an absurd in situations without rational causes and reasons. We are, generally speaking, in a sort of an absurd vacuum where we cannot tell victims from culprits, friends from enemies, nourishment from poison…"
---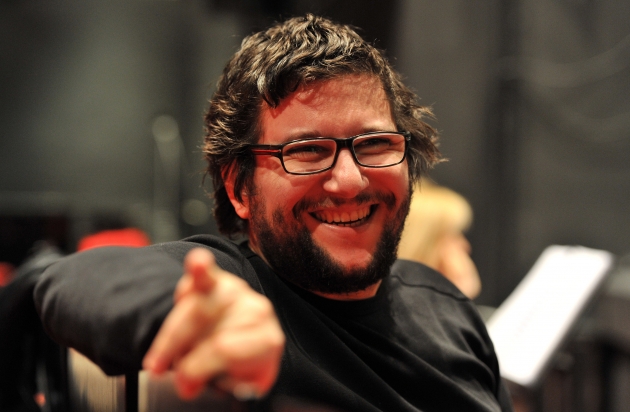 NIKOLA ZAVIŠIĆ
Nikola Zavišić was born in 1975 in Bela Crkva. He obtained both the bachelor and master's degree at the Theatre Faculty of the Academy of Performing Arts in Prague (DAMU), at the Department of Directing in Alternative and Puppet Theatre.Since 1991, he has been actively engaged in writing and theatre directing. He took part in staging more than 30 plays in Serbia, Montenegro, Czech Republic and the Netherlands. With the troupe he founded in Prague (ComFactory), he participated in many festivals throughout Europe (Czech Republic, Poland, Belgium, Germany, the Netherlands…). In 2002-03, he worked as an assistant lecturer to Professor Jaroslava Šiktancová at the Department of Acting, Academy in Prague. In 2002, he was an assistant to lights designer A. J. Weissbard when the opera Destiny (Osud) by Leoš Janáček, directed by Robert Wilson, was being staged at the master scene of the National Theatre in Prague. This experience has fascinated him and made him permanently interested in exploring possibilities of lights in theatre. Nikola Zavišić directed in children's theatre (Malo pozorište "Duško Radović": Kiki and Bozo by Andra Valean; Almost Anyone May Fall except the Heron, after the motives of a story written by Telehen; The Paul Street Boys, by Ferenc Molnar. Puppet Theatre "Pinocchio": Aladdin's Magic Lamp; Fool Fart and the big theft of a creek; Bastien and Bastienna; and in other theatres in Užice, Pančevo and Podgorica) and in theatre (Luča Mikrokozma by P.P. Njegoš, in Rex Theatre; The Stranger by A. Camus, theatre "Ponec", Prague; Several Suitcases, Oerol Festival, Holland; 1984 by G. Orwell, Oerol Festival and BITEF; Plasticine by V. Sigarev, Atelje 212; Godot on the Hot Tin Roof by B. Dimitrijević, Serbian National Theatre; The Castle by F. Kafka, Yugoslav Dramatic Theatre; The Robbers by Friedrich Schiller, National Theatre in Subotica; Bli by Jelena Mijović, Atelje 212). He wrote the play Teenage Club; the play is being performed in Malo pozorište "Duško Radović". He got many theatrical awards:
• Special Award, TIBA Festival (Theatre International Belgrade Adventure) for Kiki and Bozo in 2005;
• Grand Prix and the Directing Annual Award at the Serbian Professional Puppet Theatre Festival (in Novi Sad, 2007) for Aladdin's Magic Lamp;
• Best Play Grand Prix and UNIMA Special Award at the Serbian Professional Puppet Theatre Festival (in Niš, 2008), for Bastien and Bastienna;
• Best Director Award at the International Children Theatre Festival in Kotor, for The Parson's Nose of a Bird of Paradise, in 2007;
• Best Play Award and Best Director Award at Vojvodina Professional Theatre Festival, for The Robbers, in 2009.
Premiere performance
Premiere December 17, 2009 / "Raša Plaović" Stage

Translation by Novica Antić
Director, Set Designer, Lighting Designer Nikola Zavišić
Costume Designer Mirna Ilić
Composers Sonja Lončar, Goran Simonoski
Dramaturge Maja Pelević*
Speech Ljiljana Mrkić Popović
Assistant Director Aleksandar Švabić**
Assistant Set Designer Miraš Vuksanović*
Sound Designer Vladimir Petričević
Sculptor Stanimir Pavlović
*Painting of set details by Maja Pelević and Miraš Vuksanović

Premiere cast:
Valya Nenad Stojmenović
Father / Uncle Peter / Police Sergeant Seva Tanasije Uzunović
Mother / Pool keeper / Waitress Anastasia Mandić
Girl Olja / Corporal Ljudmila Milena Đorđević
Captain Stasik Slobodan Beštić
Sisojev / Tahir Zakirov / Verkhushkin Bojan Lazarov

Producer Nemanja Konstantinović
Stage Manager Đorđe Jovanović
Prompter Danica Stevanović
House Carpenter Zoran Mirić
Sound Operator Roko Mimica
Lighting Operator Dušan Pivač
Make-up Dragoljub Jeremić
Songs have been recorded and produced in Vladimir Petričević's "FLYBYVLY" Studio
** II year student of theatre and radio directing in the class of Professor Nikola Jevtić, at the Faculty of Drama Arts in Belgrade