THE GREAT DRAMA
drama by Siniša Kovačević
About Performance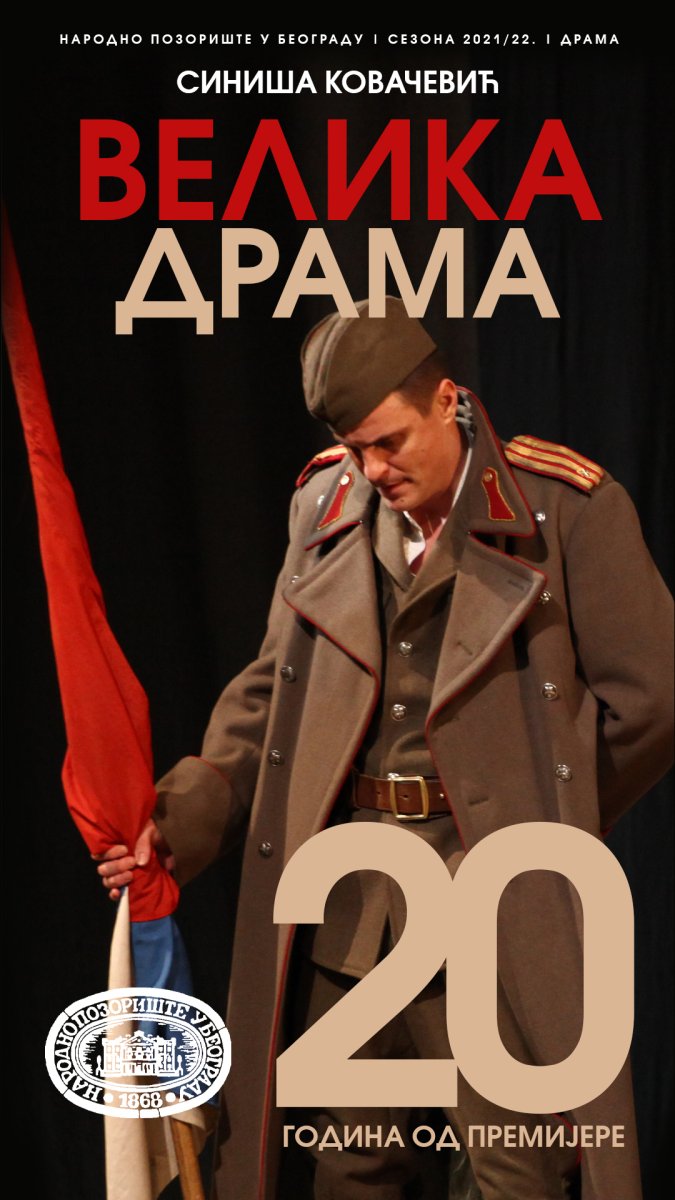 The Great Drama is one of the most ambitious plays by Siniša Kovačević, a renowned playwright, who worked on the text for thirteen years. This is a moving story about re-examining the past and seeing how tumultuous post-war (the Second World War) events reflect on individuals and the way their destinies are set because of it. The author focuses on a Montenegrin family of Vučićs who actively, both ideologically and in every other sense of the word, participate in colonization of Vojvodina. The hero of The Great Drama is Milorad Vučić, who manages to impose ideological illusions of the new time to his traditionally organised patriarchal society. He submits tradition to the communist vision of progress, the future social order in which he heartedly believes to be just and the final one to mend all injustices accumulated over the centuries. However, in his uncompromising and honest following of the high goal Milorad, unfortunately, forgets some of basic values of life and by consciously sacrificing them faces a tragedy; the tragedy will effect his family even the generations to follow. Siniša Kovačević's text serves as a remainder that the pillars of life are actually the simple wishes – spending the life with the woman you love, in the place you love and by doing what you love. The three "loves" are, unfortunately, unobtainable in the play for the reasons an individual cannot influence. Namely, historical circumstances which, as the author skilfully presents in the prologue and the epilogue (the prologue and epilogue happen half a century after the period 1945-48) events that keep recurring in the country, only with slight variations, and always with same dilemmas for people who live here, indicating that, to put it in simple terms, the happiness is only a dream. The disconcerting realisation about such destiny has a true sobering effect regarding liberation from all sorts of ideological frames and by turning to the essence of being. All these and numerous other issues in the exciting drama have been skilfully incorporated in a clear dramatic action, which becomes timeless owing to the author's mastery to present an exciting play from the point of seemingly surpassed and many times examined historical events, which is of enormous importance to us. Last, but not least important: The Great Drama has been made of magical catharsical illusion which Racine considers the most important in theatre – emotion!
Željko Hubač
---
SINIŠA KOVAČEVIĆ
Siniša Kovačević was born on 30 May 1954 in Sremska Mitrovica, where he finished primary and grammar school. At the Faculty of Dramatic Arts in Belgrade he studied at the Department of Dramaturgy with Professors Ljubiša Đokić, Jovan Hristić, Vladimir Stamenković, Slobodan Selenić and Ratko Đurović. He writes for theatre, film, radio and TV. His best-known theatre plays are Saint Sava, General Milan Nedić, Serbian Drama, King Marko, It Is the New Age, One for the Road, Janez, etc. He won three Sterija Awards. The play It Is the New Age has been taken in the group of 10 best Serbian post-war dramas. He works as a Professor of Dramaturgy at "The Karić Brothers" Art Academy. His plays have been translated into Russian, Macedonian, Polish, Greek, German and English. He lives and works in Belgrade.
---
Kovačević achieves real tension, this time not merely with the plot (…) The tension is achieved by the author's original and strong words, sometimes sharp, sometimes humorous and at all times theatrically effective.
Aleksandar Milosavljević, The Glas Javnosti, Belgrade, 3 March 2002
---
(...) The originality of The Great Drama on stage of the National Theatre is in the fact that a young actor manages to carry the performance on his shoulders, from the opening to the last scene. He is not merely a new talent, a new occurrence, an acting master. (…) Such an actor appears ever so rarely; one believes him from the first to the last minute. In addition, his energy, acting expressiveness and transformation catches the whole auditorium. (Vuk Kostić) The other base of the production is the character of Vidosava Vučić interpreted by Ljiljana Blagojević: her interpretation reveals the strength and tragedy of a woman from Montenegrin mountains. Specially tragic character is Dušanka Stojanović's Jelistina and the lyrical one is Helga by Sonja Kolačarić. (...) This is true of the production for which we can freely say that there is no weak link in the cast.
Milutin Mišić, The Borba, Belgrade, 27 February 2002
---
(...) Ksenija Zečević found adequate musical references that led to interesting coordination in the live documentary acting. (…) Tanasije Uzunović, an actor in the prime of his career, has interpreted the character of Zarija Vučić impressively, with abundance of personal strength, transformations and fine tragic of pure style and authenticity. His wife in the play, Vidosava, is given in utmost directness of interpretation by Ljiljana Blagojević! (…) All attention has been concentrated on the young Vuk Kostić, who interprets Milorad with full and fanatical energy portraying the tragedy of the time. At the beginning and at end of the play, Miodrag Radovanović interprets with utmost conviction the character of the old and abandoned father of the family. (…) General Sava Vukotić Cicko, forcefully interpreted by Ljubivoje Tadić, is the character who gives momentum to this tragic story. He possesses a temper which grows stronger and stronger, his expressions are economical, he runs the place and only needs a single motion to capture reactions of viewers, he feels the irony of the time and he is convincing as a protagonist of such great events in life and on stage. (...)
On the other side, we have spontaneous and emotional Helga, interpreted by Sonja Kolačarić, and elderly, sad, discrete and sophisticated reminder of her wasted life, Ljiljana Gazdić. The Great Drama is comprehensive and critics will yet have to say a lot about it, but it is indisputably a great and demanding stage production of impressive force and despite everything, an epic, in which the company of the National Theatre recognises their potential.
Hadži Petar Volk, The Ilustrovana Politika, Belgrade 23 March 2002
---
The last night's performance of The Great Drama, written and directed by Siniša Kovačević, performed by more than fifty actors of the National Theatre in Belgrade, has been an impressive way to open 47th Sterija Pozorje Festival in Novi Sad. The theatregoers who witnessed this four-hour long performance on the main stage of the Serbian National Theatre were fascinated with superb acting in The Great Drama. (…)
M. Karadžić, The Politika, Belgrade, 3 June 2002
---
(...) The atmosphere amongst the audience when the performance ended resembled the stadium one; there was an incessant applause and shouts "Bravo", "Bravo", "Bravo" that lasted for almost fifteen minutes. It expressed gratitude for the performance given on the "Jovan Đorđević" Stage of the Serbian National Theatre in Novi Sad. (…)
Mikojan Bezbradica, The Politika Express, Belgrade, 6 June 2002
---
Awards:
VUK KOSTIĆ – Sterija Award for the Best Actor
LJILJANA BLAGOJEVIĆ – National Theatre Award
SINIŠA KOVAČEVIĆ – "Dragiša Kašiković" Award for the Best Text

Premiere performance
Premiere, 22 February 2002 / Main Stage

Director Siniša Kovačević
Set Designer Geroslav Zarić
Costume Designer Marina Vukasović Medenica
Composer Ksenija Zečević
Dramaturge Željko Hubač
Speech Radovan Knežević
Stage Movement Ivica Klemenc
Stage Fights Slobodan Petković
Producers Borislav Balać and Goran Mirjačić

Premiere Cast:
Milorad Vučić Vuk Kostić
Zarija Vučić Tanasije Uzunović
Vidosava Vučić Ljiljana Blagojević
Milorad Vučić Miodrag Radovanović
Tijana Ružica Sokić / Ognjanka Ognjanović
Zorka Vučić Rada Đuričin / Gorjana Janjić
Maria Helga Hofmann Sonja Kolačarić / Bojana Stefanović
Savo Vukotić - Cicko Ljubivoje Tadić / Radovan Miljanić
Batrić Vučić Ljubomir Bandović
Stevan Vučić Nenad Maričić
Darinka Anđelka Tadić
Danilo Vučić Branislav Tomašević
Priest Stojan Srboljub Milin
Novak Sekulović Lepomir Ivković
Đorđija Labović Andreja Maričić
Svetozar Jankulov Branko Jerinić
Momir Vučić Siniša Ubović / Igor Ilić
Zorka Vučić Ivana Šćepanović
Jelistina Vučić Dušanka Stojanović Glid / Jelena Helc
Branka Vučić Ana Kaplarević / Katarina Švraka
Zarija Vučić, the grandson Marko Colić / Marko Vujošević
Vjera Vjera Mujović / Ana Franić /Anastasija Mandić / Danijela Tomović
Janica Milena Đorđević / Sena Đorović
Tijana Bojana Stefanović / Kalina Kovačević
Krstina Vučić Aleksandra Nikolić / Dobrila Ćirković
Ranko Mijović Predrag Miletić / Lepomir Ivković
Accused, Miloš Uroš Urošević
Maria Helga Hofmann Љиљана Газдић
Branko Lazović Boško Puletić / Radovan Miljanić
Wife of Ranko Mijović Jelena Helc / Jelena Ćuruvija
Son of Ranko Mijović Nebojša Petrović / Aleksandar Vujović
Dutina Borko Sarić
Olga Ana Savićević / Iva Radić
Aleksandar Zoran Milovanović
Pioneer Girl Ljiljana Cincar Danilović

Organiser Tijana Morača
Assistant Costume Designer Olga Mrđenović
Consultant for uniforms Dušan Babac
Stage Manager Saša Tanasković
Prompter Dušanka Vukić
Stage Master Zoran Mirić
Lighting Master Miodrag Milivojević
Sound Master Miroslav Vuković
Make-Up Designer Dragoljub Jeremić
Props Dejan Janković
Arms and pyrotechnics Miroslav Petrović
Wardrobe Supervisors Slobodan Mihajlović, Vera Mekić
Fashion Accessories Radica Komazec
Tailoring: Danica Ognjenović, Ljiljana Sekulić, Drena Drinić, Božo Zarić
Sculpting: Stanimir Pavlović, Borislav Stojiljković
Painting: Svetislav Živković, Ilija Krković, Miodrag Musterović, Miroslav Nikolić, Srđan Pušeljić
Carpenters: Mladomir Jakovljević, Goran Mišić, Nikola Ivaniš, Sabri Lipovica, Nebojša Dramicanin, Branko Marić, Dalibor Marković, Strahinja Samardžić
Locksmiths: Goran Milošević, Nikola Valdman, Miodrag Antonijević, Negovan Simić, Zoran Kosanović
Upholsterers: Savo Đurović, Nenad Stanojlović
Extras: Andrijević Borko, Andrić Nenad, Andžić Ivana, Popović Nataša, Balent Vlada, Bosnić Jovo, Vukić Aleksandar, Gračanin Jasmina, Denić Dragoljub, Dmitrović Miloš, Dojković Srđan, Đisalov Svetlana, Kaplarević Ana, Mijajlović Danijel, Miletić Srđan, Milovanović Zoran, Mitrović Vladimir, Mraković Dejan, Veljković Sašo, Tomić Branko, Trbojević Sava, Trifunović Zoran, Šavija Milan.
Sets and costumes have been made in the National Theatre's workshops.