Famous French Playwright Eric-Emmanuel Schmitt Visited the National Theatre in Belgrade
27 October 2023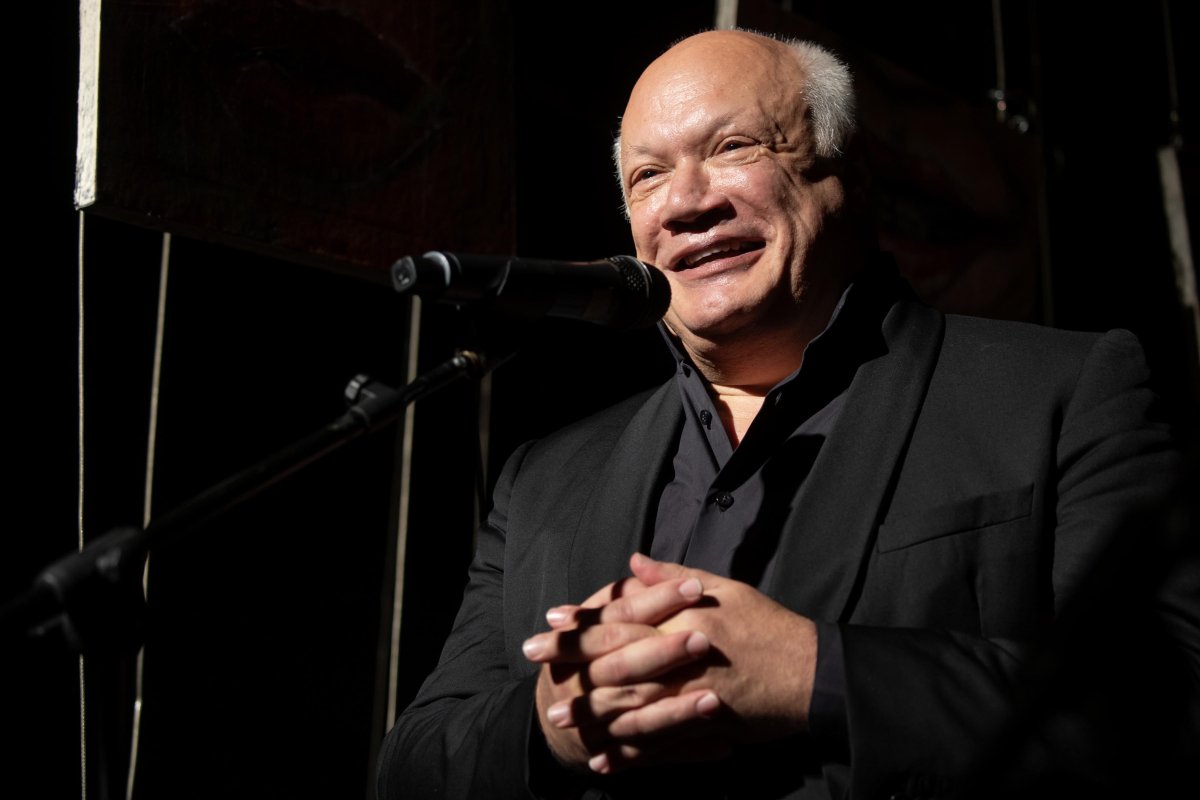 The famous French playwright, Eric-Emmanuel Schmitt, visited the National Theatre on October 26, and on that occasion, before the start of "Partners in Crime (Small Marital Crimes)", which have been performed with great success for more than a decade at the "Raša Plaović" Stage, he addressed the audience in a packed hall.
"I'm happy to be here tonight, with you. I was in the same place 12 years ago when I first saw "Small Marital Crimes" in this production. I really liked the show, I believe you will like it too," the author said of this duo-drama that premiered on April 16, 2011, directed by Filip Grinvald, who gave the roles of Lisa and Gilles to Nela Mihailović and Boris Pingović.
"This is, above all, a play about love. I would always feel sad after watching a comedy because they end right at the moment when the lovers get together, and nobody ever told a story anywhere about what happens after that. Comedies end with a wedding, while tragedies begin with a wedding. In that sense, I don't know whether I wrote a comedy or a tragedy. But I know I wrote a piece about love that lasts. This is something that is not so easy to do. It seems that it is easier for people to change partners than to experience long-lasting love with a single partner. I think one should stick to just one partner. Enjoy the show," Mr. Schmitt said in his short speech and was welcomed by the Artistic and Executive Directors of Drama Company, Molina Udovički Fotez and Anđelka Vujović, on behalf of the National Theatre in Belgrade.
In "Small Marital Crimes", which has been performed 178 times since its premiere, Schmitt places a modern man and woman - Gilles and Lisa - in the centre of attention, revealing a mix of old-fashioned and modern elements of their emotional and physical relationships.
The plot of the piece occurs at the moment when Lisa, having learned that her husband has amnesia, tries to take advantage of the situation by trying to convince him of something that did not actually happen.
The two of them, immersed in the banality of everyday life, faced with their own failure of long-dead passions, torture and abuse each other - in the name of love. On the other hand, it is touching how they desperately yearn for that same love...
"Small Marital Crimes" is the second play by Schmitt that was staged at the National Theatre in Belgrade. Before that, "Enigma Variations", an iconic play based on an unusual love triangle and inspired by Edward Elgar's composition of the same name, was performed on the same stage. The premiere was held on May 2, 1998, directed by Božidar Đurović, with Marko Nikolić (Abel Znorko) and Boris Pingović (Erik Larsen) playing the lead roles.
For the role of the Nobel laureate Znorko, the premier stage actor Marko Nikolić (1946-2019) received a prestigious acting award - the "Raša Plaović" Award.
On the National Theatre stage and on tours abroad, "Enigma Variations" was performed 293 times.
The play was last performed on June 15, 2015.
Schmitt was born in France in 1960. At the university he studied music and literature. In 1983, he graduated in philosophy at the Ecole Normale Supérieure, and in 1987 he received his doctorate. Six years later, after great responses to his literary work, he decided to devote himself completely to writing. Schmitt is first and foremost a theatre playwright. He received the award of the French Academy of Sciences for his entire theatrical work, and many of his plays have been awarded multiple times.