NATIONAL THEATRE'S WEBSITE DECLARED THE BEST SERBIAN WEBSITE IN CATEGORY "LIFE" BY THE PC PRESS MAGAZINE
30 January 2015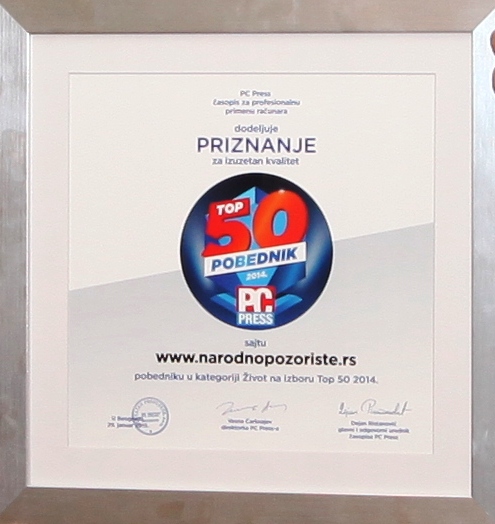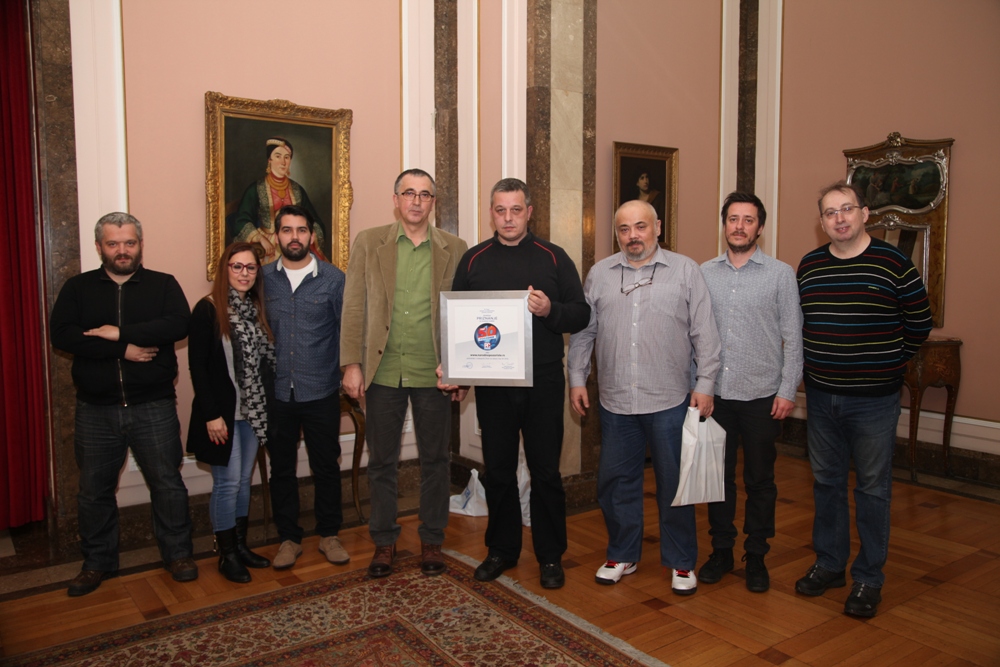 In the annual competition of best national websites, organised by the PC Press Magazine, the Website of the National Theatre in Belgrade received the Award for Best National Website in Category "Life" in 2014. The competition is a traditional annual event, organised by the PC Press Magazine for 18th time.
At the award presentation event, which took place on Thursday, 29th January, in the Assembly of the City of Belgrade, the award was presented to the members of the National Theatre's Web-Team: Dejan Tasić, Vojin Petrović, Bojan Belić, Milan Kovačević, Marija Knežević, Jovan Tarbuk, Petar Antonović and Mikojan Bezbradica.
In the explanation by the PC Press's jury, amongst other things, it was stated that it is a superb website of one of the most important and oldest institutions of culture in the country which presents all the important aspects of the Theatre's activities.
Special commend was given to the English version of the website which, according to the jury, has made a crucial contribution to declare the website of the National Theatre in Belgrade the winner amongst other strong competitors in the category "Life".
Other competitors in the category were www.tarzanija.com, www.urbanbug.net, www.zivotinje.rs and www.lepotaizdravlje.rs
Selection of 50 best national websites is a traditional event organised by the PC Press Magazine since 1997. This year, the awards were given in five categories.
In the "News" category the award was presented to www.b92.net, in the "Service" category the winner was www.poreskauprava.gov.rs, in the category "Knowledge" the award went to www.britischcouncil.rs, and in the category "Blog" to www.psihoverzum.com.
Besides the websites, the best social media presence and the best applications for mobile phones were also awarded in this year's competition.
PC Press Magazine is the most prominent IT magazine in the country; it has been published since 1995.
The National Theatre's website became operational the same year and it has about 50,000 visits per month.
M.B.