THE MARRIAGE
comedy by Nikolay Gogol
About Performance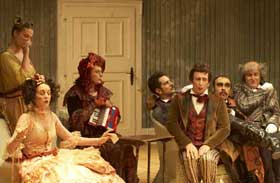 Good quality Marriage has not been presented with us for more than fifty years. I was looking for the key to "unlock" the theme, and I think that the fear of marriage in a time of crisis was crucial element … I am convinced that Gogol was the founder of surrealism, and not of realism, which is the usual opinion. Severe approach to the characters with certain surrealistic elements is a good basis for creation of specific scenic situation in which group of people afraid of life try to find their partners.

Slavenko Saletovic, director
---
Awards:
The performance won First Audience Prize on the manifestation "Days of Zoran Radmilovic"
Mihajlo Ladevac won the prize "Zoranov brk" for his role as Podkolyolsin.
---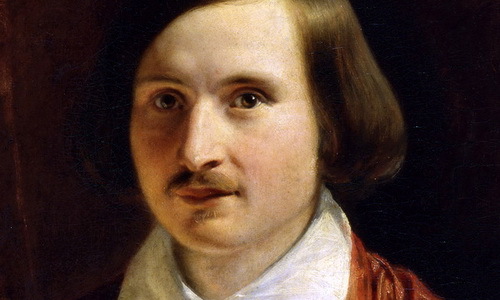 NIKOLAI VASILIEVICH GOGOL
Nikolai Vasilievich Gogol was born in 1809 in Ukraine, in a place called Sorochyntsi, in Poltava Governorate. He descended from an old Ukrainian family who have converted to Catholicism for a period in its history. His great grandfather, already converted back to Orthodox Christianity, was a priest. Gogol's father was playwright of farces in Ukrainian, as well as a director and leading actor of amateur theatre on an estate of a nobleman D. P. Troshchinski. The father has influenced Gogol regarding taste for humour and interest in literature. While a student in Nizhin grammar school he directs and acts in school productions and keeps records in history and ethnography (Miscellaneous Notebook and Handy Encyclopaedia where he recorded specific words and expressions, proverbs, favourite sayings, customs, tradition, descriptions of clothing, even whole stories about people's lives). Also during his stay in Nizhin, he writes a romantic poem Hans Kulchergarten. In 1829, at the age of twenty, he leaves to Petersburg with intention to find a job in state administration. Unsuccessful pursuit of employment made him think of Hans Kulchergarten and publish it under pseudonym V. Alov. The magazines The Moscow Telegraph and The Northern Bee deride it, so Gogol destroys all copies he manages to find in bookstores and leaves Petersburg for Germany. We can see beginnings of Gogol's belief in special intention the God has for him in letters from 1829, "God has showed me the way into another country so I could nurture my passions in silent contemplation, in solitude, in the bustle of undying endeavours… and I found courage to refuse God's intentions and crawl in this big city amongst other clerks…"
After only three months abroad, he goes back to Petersburg, starts working for the Ministry of Estate, and meets writers and cooperates with magazines. In 1831, his short stories Evenings on a Farm Near Dikanka are published which brought him fame. First admirers of Gogol were poets Alexander Pushkin and Vasily Zhukovsky, writers Sergey Aksakov and critic Vissarion Belinsky. Gogol publishes the second volume of the Evenings in 1832 and starts working on comedy Vladimir of the Third Order; he writes stories The Tale How Ivan Ivanovich Quarrelled with Ivan Nikiforovich and The Old World Landowners in 1833. In 1834 Gogol was made a Professor of Medieval History at the Petrograd University, but since he had no qualifications, he resigned and devoted all his efforts to literature. In 1835, he publishes Mirgorod and Arabesques, he writes Marriage and The Nose and starts writing Dead Souls. Two months after having received summary from Pushkin, he finishes comedy The Government Inspector, which premiered on 19 April 1836 in the Alexandrinski Theatre in Petrograd and on 25 May same year in The Small Theatre in Moscow. Bitter with reviews to The Government Inspector (I was confronted by all classes, the whole of Russia!) he goes to Italy where he stays until 1841 working on novel Dead Souls. The novel and the first edition of all Gogol's pieces (including the story The Overcoat and comedy Marriage) were published in 1842. However, since 1841 Gogol has undergone a series of crises, episodes of mysticism, he negates his work and turns more and more to religious and ethical issues. In 1845, he burns the second part of Dead Souls, which he envisaged as a sort of The Divine Comedy in prose (already published first volume should have been Inferno, and the second and third – dedicated to Chichikov's moral rebirth – Purgatory and Heaven). In January 1847, Selected Passages from Correspondence with His Friends is published, but it was severely attacked by previous admirers of Gogol's work. The book was most severely criticised by Vassarion Belinsky, who called him in a letter "a preacher of self-punishment, obscure and darkest abuse". The following year, Gogol goes on pilgrimage to Palestine, but he returns disappointed with weakness of his faith. On 24 February 1852, he burns the whole text of the second volume of Dead Souls. Ten days later Gogol died.
---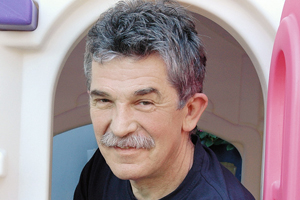 SLAVENKO SALETOVIĆ
Slavenko Saletović graduated from the Department of Theatre and Radio Directing at the Academy of Theatre, Film, Radio and Television in Belgrade. Saletović produced more than 80 plays in theatres in Belgrade, Sarajevo, Kragujevac, Zrenjanin, Šabac, Tuzla, Leskovac, Novi Sad, Niš, Zaječar, etc. His productions competed and received awards at Sterija Pozorje Festival in Novi Sad, "Joakim Vujić" Festival in Kragujevac, "The Days of Comedy" Festival in Jagodina. Saletović's graduation production Hamlet from the Village of Mrduša Donja by Ivo Brešan, was awarded at the Festival of Cervantes in Mexico. He directed ten TV dramas and TV films for RTV Belgrade. TV film Rudi by S. Šnajder won at the Yugoslav Television Festival in Neum, while Life in Grobljanska Street by N. Romčević was awarded at the International Festival of Television in Plovdiv. Slavenko Saletović works as a Professor at the University and a Head of Department of Theatre and Radio Directing at the Faculty of Dramatic Arts in Belgrade.

Premiere performance
Premiere, 4 November 2005 / "Raša Plaović" Stage

Translation Kiril Taranovski
Director Slavenko Saletović
Adaptation and stage speech Ljiljana Mrkić Popović, PhD
Dramaturge Slavko Milanović
Set Designer Boris Maksimović
Costume Designer Milanka Berberović
Composer Miroljub Aranđelović Rasinski
Stage Movement Pier Rajković

Premiere Cast:
Agafya Tikhonovna Kalina Kovačević / Milena Đorđević
Arina Panteleymonovna Danijela Ugrenović
Fyokla Ivanovna Nada Blam
Podkolyosin Pavle Jerinić
Kochkaryov Bojan Krivokapić
Yaichnitsa Ljubomir Bandović / Lepomir Ivković
Anuchkin Zoran Ćosić
Zhevakin Boris Pingović
Stephan Lepomir Ivković / Gojko Baletić
Dunjashka Dejana Miladinović

Producers Nemanja Konstantinović, Saša Petković
Assistant Costume Designer Branka Đuričić
Associate Costume Designer Ružica Ristić
Stage Managers Saša Tanasković, Miloš Obrenović
Prompter Danica Stevanović Todić
Make-Up Designer Dragoljub Jeremić
Lighting Design Srđan Mićević
Sound Master Roko Mimica
Stage Master Dimitrije Radinović
Props Dejan Janković
Wardrobe Supervisors Mirjana Kuzmanović, Radivoje Đurđević, Dejan Antonović
Sets and costumes have been made in the National Theatre's workshops under supervision of D. Ognjenović, Lj. Sekulić, D. Drinić, B. Zarić, R. Komazec, M. Rakić, Ž. Lukić and Ž. Rudić