Protocol of Cooperation Signed within the Open Balkan Theatre Platform
28 September 2022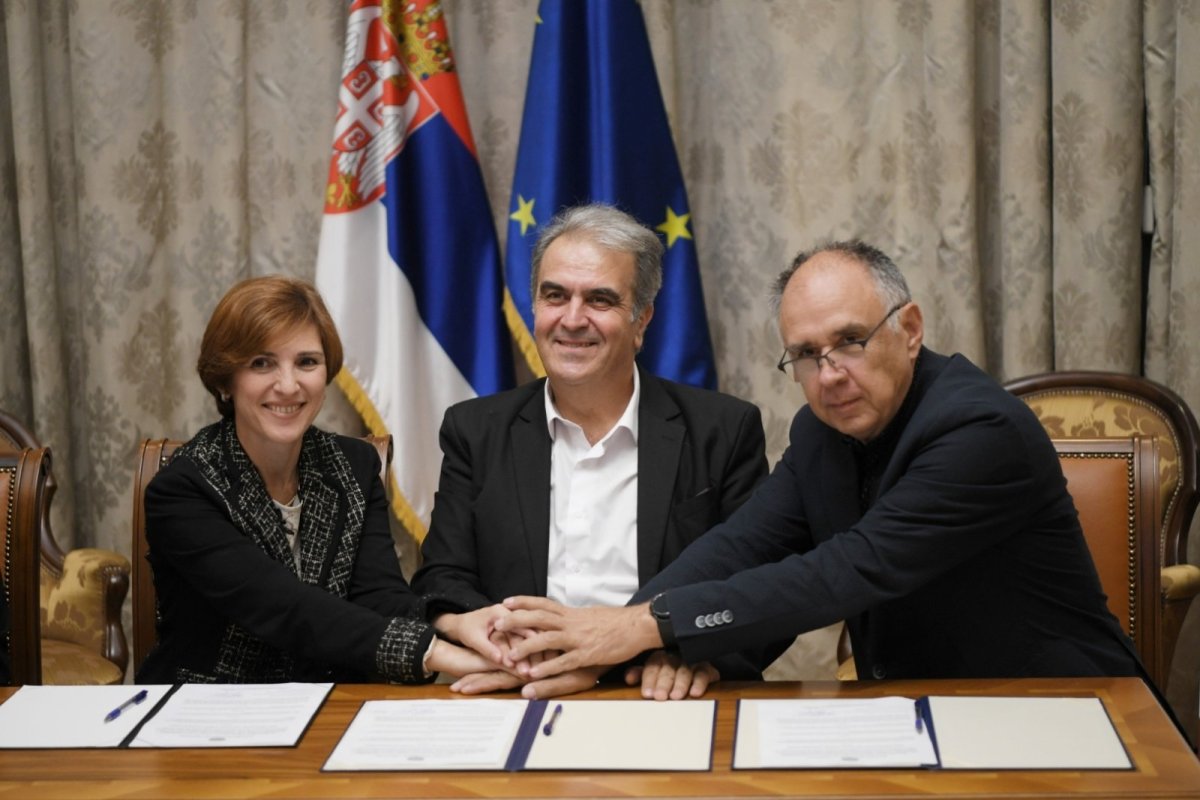 Open Balkan Theatre platform on cooperation between Serbia, Albania and North Macedonia in the field of theatre, drama, opera and ballet was made official on September 28 with the signing of the Protocol of Cooperation in the Government of the Republic of Serbia.
The Protocol of Cooperation was signed by Acting General Manager of the National Theatre in Belgrade, Svetislav Goncić, Vaso Ristov, Director of the National Opera and Ballet from Skopje, and Abigeila Voshtina, Director of the National Opera and Ballet from Tirana, while the director of the Macedonian National Theatre, Simona Ugrinovska, will subsequently sign the protocol.
The strategic cultural cooperation, Open Balkan Theatre, is a platform that will enable a stronger connection of the most important national cultural institutions of these three countries and will send an important message to the world outside this region about the uniqueness of the Balkan culture.
"All our regional cultures create an important entity of the Balkans, and the idea of the Balkan culture being so specific in the whole world is very strong. If we could share and expand experiences and creativity and weave them into one diverse carpet, the whole world would be able to recognize it as a unique Balkan culture that is magical" - Svetislav Goncić emphasizes and adds:
"This Open Balkan Theatre project originated from the idea that we should open the door to the future, especially to young people, and practically start a new concept, a new world."
"I am glad that so far we have had excellent cooperation as two countries, but the Open Balkan Theatre is a chance to get even closer, to cooperate even more, to help each other as institutions," Vaso Ristov said, the director of the National Opera and Ballet of North Macedonia.
Open Balkan Theatre implies continuous cooperation throughout the year, but also major joint projects that stress the importance and significance of culture as a way of connecting.
"Through the exchange of opera, ballet, dramatic artists, conductors, soloists, playwrights and other artists, a new and exciting energy is created that can boost the artistic quality and bring something new to all our ensembles," Abigeila Voshtina says, director of the National Opera and Ballet from Tirana.
Radovan Jokić, Assistant Minister of Culture for Contemporary Creativity, expressed his satisfaction with the signing of the Protocol of Cooperation and emphasised:
"At this moment, we believe that we need culture now more than ever. On this basis, as far as the cooperation between national theatres is concerned, I especially have to express my satisfaction, because they certainly present current content and we hope that it will teach us not only who we are, but how through these artistic projections and through this type of spiritual determinants we can be better and what we can really achieve".