Exhibition Titled "Borislav Bora Grigorović" by Dragica Gaćeša Opened at the National Theatre Museum
29 December 2021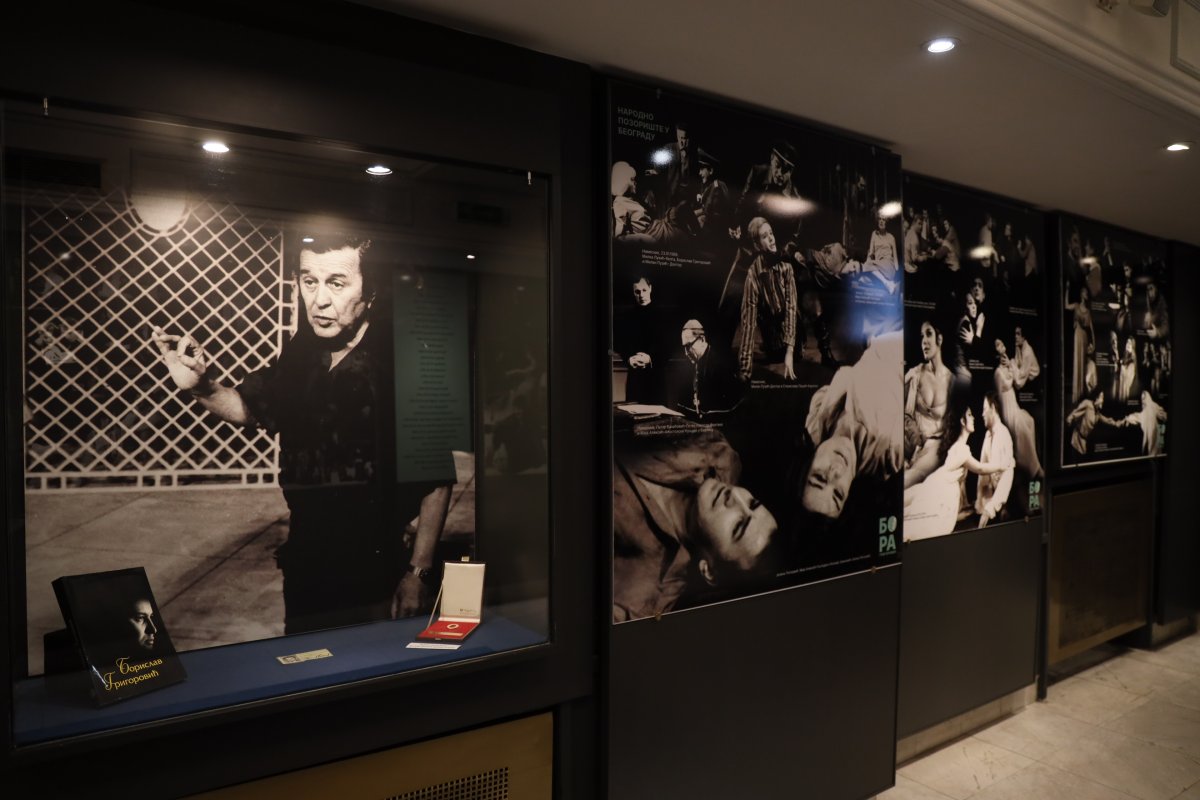 The exhibition titled "Borislav Bora Grigorović" the author of which is Dragica Gaćeša dedicated to this renowned theatre, television and film director, actor and scriptwriter (1928-2010) was opened on December 29 at the National Theatre Museum.
The exhibition presents a retrospective of the work of this great man, born in 1928 in Trebinje, from his first acting steps, then throughout a decade he spent as a member of the National Theatre in Sarajevo (1954-1964) to which he gave 30 plays, until he moved to the National Theatre in Belgrade where he stayed until the end of his career.
Apart from the author, the acting General Manager of the National Theatre, Svetislav Goncić, playwright Miodrag Ilić and Grigorović's daughter Ana, a director at the National Theatre, also spoke at the opening.
Director Dragan Stevović greeted the audience on behalf of the National Theatre Museum, and then the acting General Manager of the National Theatre, Svetislav Goncić, took the floor and thanked everyone who came "tonight to the opening of the exhibition dedicated to a great person with an exceptional biography."
"As a child, I had the opportunity to work with some great names, dear older colleagues, and from that period I brought with me respect and understanding for people like Bora. Thanks to this exhibition, we will have the opportunity to go through the history of the National Theatre a bit. In that context, I want to say that the National Theatre faces some uncertain time, a risk that the future may carry… And yet, without that risk which is characteristic for creativity, the future would consist only of administering some tasks. That uncertainty is not so difficult, if we know who was here before us and where we were. Therefore, if in the very basis, in the foundation of the years behind us, we have a name like dear Bora Grigorović, then we know that we are on the right track and we will certainly try to show our respect through the plays that we will stage and through the activities of the National Theatre Museum thus commemorating those important people because of whom we have the honour to stand here today ", said Svetislav Goncić.
Miodrag Ilić pointed out that Grigorović remained in the fondest memories of all those with whom he collaborated, both as a man and as an artist.
Ilić said that Grigorović, apart from being a very successful director, was also remembered as an actor, reminding that he acted in one of our first films - "Life is Ours" directed by Gustav Gavrin.
According to him, Grigorović possessed that specific genteelness which was characteristic of Mostar and Trebinje mentality.
"Bora was quiet, unobtrusive, hardworking, meticulous. He never got into any conflict with anyone. I have never heard that he quarrelled with anyone, that he got into any kind of a misunderstanding. Bora always knew how to find the right word ... I remember him as one of my best collaborators, really. As the Drama Manager, I could always rely on him, at any time", Ilić emphasized.
Ana Grigorović reminded those present that it was only the second time in the past eleven years that she spoke publicly about her father.
"The reason for speaking about him then was his death, and now we are here to celebrate his life. In that sense, I am very grateful to Dragica Gaćeša who designed this exhibition", this talented director said and then, with a lot of emotion, continued to evoke her memories of her father, talking about the lessons she learnt from him, which, as she pointed out, were very important both for us, as people, and also for the theatre.
"The first thing he taught me, although we never talked about directing, was that every director and every person must have an attitude and must have an idea by which he or she stands. It is something that is very important to me and that has remained as a thought of his. The second lesson was about teamwork. If we have an idea and if we do everything together, as a team, then we have the opportunity to create art. The last lesson my dad taught me, and it was about directing, was related to the moment I took the entrance exam. Since I made it to the short list, and I didn't know what to perform before the board and what kind of an improvisation to come up with, he told me to speak about things that concern me and that were familiar to me. Exactly those stories that I told then and that I am telling now, are about my mother, my father, my family "... said Ana Grigorović.
Dragica Gaćeša thanked all the speakers, as well as all those who came to the opening of this exhibition, which, as she emphasized, was a story about a grand artist.
"I hope that I have justified the trust that the Grigorović family placed in me", the author of the exhibition said, who also thanked the Research and Documentation Centre of the National Theatre, the Museum of Theatrical Arts of Serbia, the National Theatre in Sarajevo, Peca Antonović for videos and exhibition designer Jovan Tarbuk. .
When he graduated, Grigorović decided to start his career at the National Theatre in Sarajevo, where he soon became the first director, and then he received a scholarship to continue his studies in Paris.
After a decade of successful work in Sarajevo (1954-1964), he moved to the National Theatre in Belgrade, where he did his first directing, The Deputy, which was a great success, and then other plays ensued.
Some of the plays are: 'Tis Pity She's a Whore, After Love, Theatralia Singidunum collage, Naked Kittens, Leader, Prophet, Colomba, Tašana, Children of the Sun, The Categorical Demand, The Ward of Mary Help of Christians, Koštana, Stalemate or the Game of Kings, Blood Brother…
A large number of his plays had a very long stage life, and Koštana by Bora Stanković directed by Grigorović was an iconic show on the National Theatre stage; it was on the repertoire for 14 years and it was performed about 300 times.
He directed over 100 plays, and he was also a professor of directing at the Academy of Arts.
Grigorović was a guest director in Mostar, Banja Luka, Zenica, Tuzla, Osijek, Zrenjanin, Niš, Priština, Šabac, Užice, Dimitrovgrad, Zaječar, Sremska Mitrovica and Pirot, as well as in Germany and Romania.
On two occasions, he was the acting manager of the National Theatre Drama in Belgrade, and he was also a member of the National Committee for ITI within UNESCO and the initiator of the event called Dučić's Poetry Evenings in his hometown. He directed over 100 plays, and he was also a professor of directing at the Academy of Arts.
He received numerous awards, including the Sixth April Award of the City of Sarajevo in 1962 (for directing the play "The Resistible Rise of Arturo Ui" by B. Brecht, "The Long and the Short and the Tall" by W. Hall and "Discovery" by D. Ćosić), "Shakespeare's Celebration" plaque, the National Theatre Award for the 1979/80 season for directing "Fear and Hope of Nadezhda Mandelstam", "Joakim Vujić" Award, the National Theatre Plaque, the National Theatre Seal, the Golden Ring, "Jovan Bata Putnik" Award.
He died in September 2010 in Belgrade.