On the occasion of the start of the 152nd season, a spectacular show was given from the balcony and in front of the National Theatre main entrance titled "Together Again – a Spectator's View Changes Everything"
29 August 2020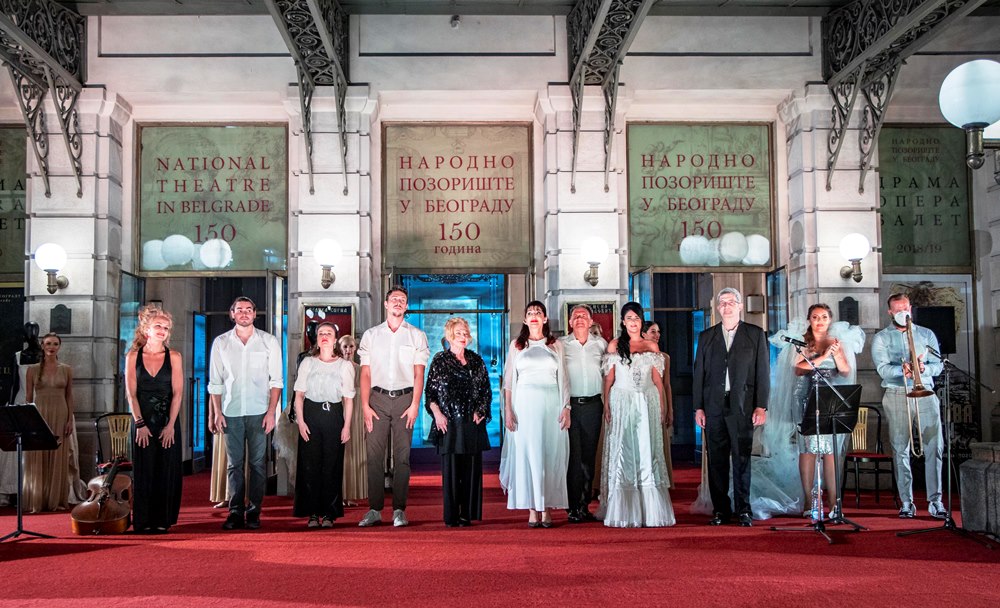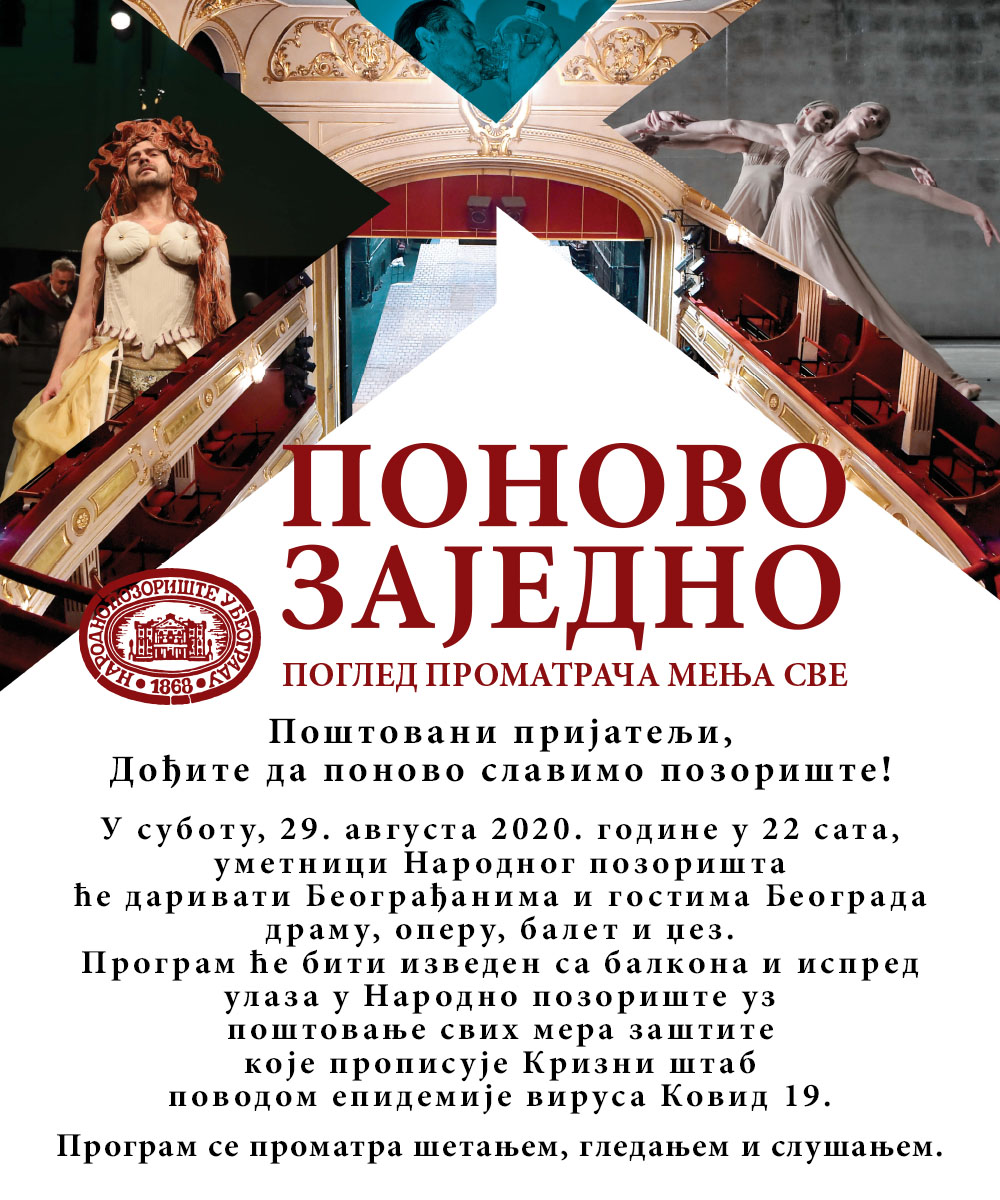 Wishing to honour the audience returning to the theatre, on August 29 the artists of the National Theatre gave a spectacular show at the balcony and in front of the National Theatre main entrance to commemorate the start of the 152nd season while observing all protection measures prescribed by the Crisis Team regarding the Covid 19 virus pandemic.
The members of all three ensembles of the National Theatre and their guests appeared in a magnificent atmosphere before a thrilled audience gathered at the plateau in front of the theatre and at the Republic Square.
A diverse and carefully selected programme to celebrate the Theatre, titled "Together Again – a Spectator's View Changes Everything", a gift to the people of Belgrade and the guests of the Serbian capital, which combined drama, opera, ballet and jazz, was opened by the ouverture by the most celebrated opera of George Bizet – "Carmen".
For about sixty minutes the audience was able to enjoy the ballet programme (choreographed by Dejan Kolarov) and popular arias and duets from the diverse opus of the world's greatest composers (Camille Saint-Saëns, Puccini, Dvořák…), and also one of the most popular Italian songs was heard – "O sole mio", texts were read from the very rich history of the National Theatre and some well-known jazz standards were played…
At the end, all the participants of this marvellous show were rewarded by a huge applause – premier stage actress Radmila Živković, actress Suzana Lukić, young actors Bogdan Bogdanović and Nemanja Stamatović (associates of the National Theatre), principal opera artists – mezzo soprano Jadranka Jovanović and tenor Janko Sinadinović, young National Theatre associate – soprano Evgenija Jeremić, chorus master Srđan Jaraković, cellist Irina Skorikova, Ballet soloists Milica Jević Drndarević, Silvija Džunja, Ana Ivančević, Tatjana Tatić, Teodora Spasić, Olga Olćan and Ljupka Stamenovski as well as special guests - Sofija Knežević , a jazz singer currently living and working in New York and Elliot Leyson, a musician, also from New York.
During the concert the traffic flow was undisturbed and it was very interesting to see many of our fellow citizens getting off the trolleybuses and joining the event because, honestly speaking, nobody could stay indifferent watching this magnificent performance of our finest artists.
In the programme realisation also participated Branislava Pljaskić (stage manager), Marko Dukić (makeup artist), Miodrag Milivojević (gaffer), Tihomir Savić (sound mixer), Petar Antonović (video) and Zoran Mirić (stagehand).
The entire show was live streamed on the Theatre website and on YouTube channel of the National Theatre in Belgrade.