"The Art of a Dancer" Exhibition Dedicated to Milorad Mišković Opened in the Main Stage Stalls Foyer
14 December 2021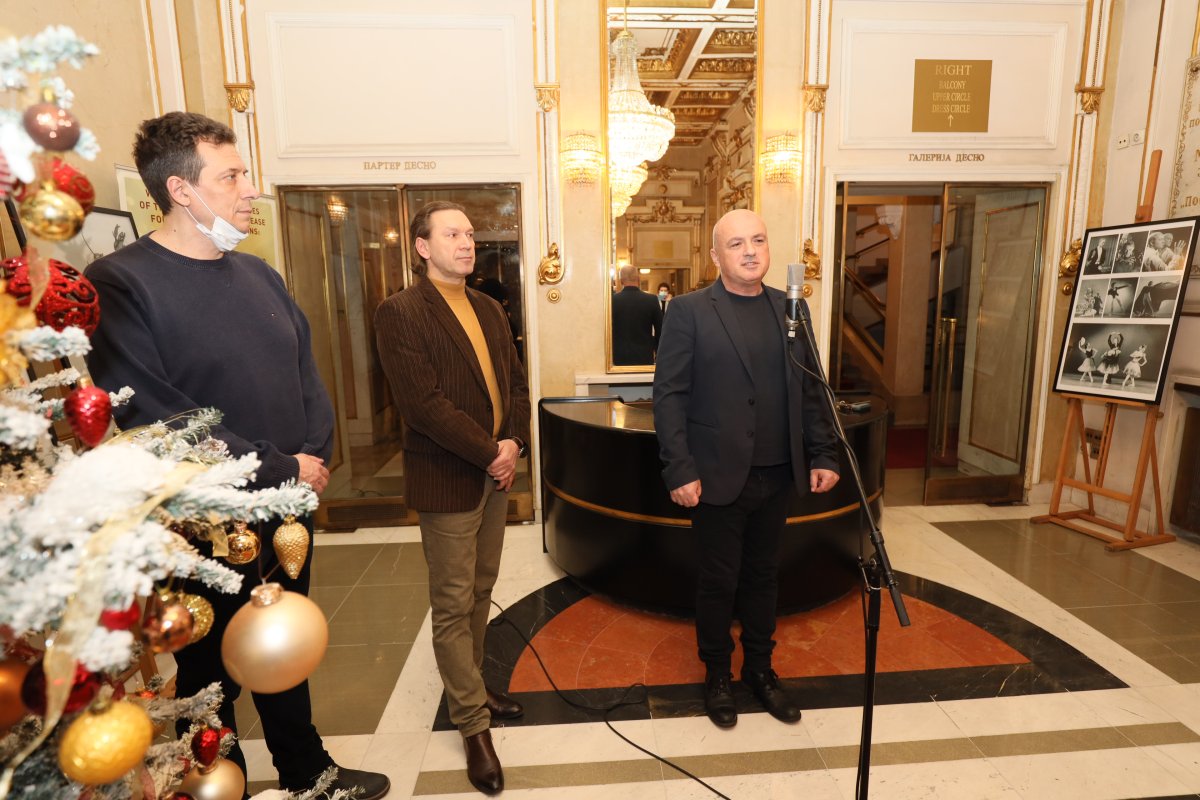 The exhibition titled "The Art of a Dancer" dedicated to Milorad Mišković, a great name of the Serbian ballet and a remarkable figure in the mid-20th century European sky of star performers, prepared by Miloš Dujaković, Mišković's associate of many years, was opened on December 14 in the Main Stage Stalls Foyer.
Besides Dujaković, the Director of the National Theatre Museum, Dragan Stevović, and the Ballet Director, Konstantin Kostyukov, who opened the exhibition, also spoke of the celebrated ballet performer.
Kostyukov said that he never had the opportunity to see Mišković perform, as he met him in his later years.
"I can just say that he was a wonderful gentleman with sophisticated manners and one could tell that he was a great artist. His every word or advice were so precious", Kostyukov said.
He stressed that Mišković, although he came from a small country, "made his name in ballet thanks to his strength, desire and love for this beautiful profession."
"Many Russian ballet dancers never managed to achieve what he did…He carried huge strength and idea in himself, but also aesthetics, spirit and style. I am glad that there are people like him. He is unique and he will make a great impression on young generations when it comes to ballet aesthetics that should look just like this, but also when it comes to interpersonal relationships", Kostyukov said.
Dujaković stressed that Mišković's work was marked by endless motivation and inspiration that could be perceived from various aspects.
"His dancing career was at one point an epicentre of important events. Suddenly, all these celebrities were around him – Jean Cocteau dedicated his sketches to him. Picasso came to sketch his rehearsal, but also other great composers, painters and scenographers participated in his work", Dujaković said.
In his opinion, "to be in the epicentre of, otherwise, artistically rich and inspiring period and to remain in it for so long is a proof of a magnificent career and success."
This exhibition includes only a small part of the extensive photo material of one of the greatest French photographers, Serge Lido, who followed Milorad Mišković's career from the early days.
A series of photographs that he dedicated to this Serbian and world artist called "The Art of a Dancer" was made at the beginning of his career in Paris.
The viewers will be able to see the exhibition that will be opened until February when coming to the Main Stage evening shows and during the opening hours of the National Theatre Museum, Mon – Fri from 11 a.m. to 4 p.m.