Opening of Exhibition Dedicated to the Work of Costume Designer Božana Jovanović
7 June 2022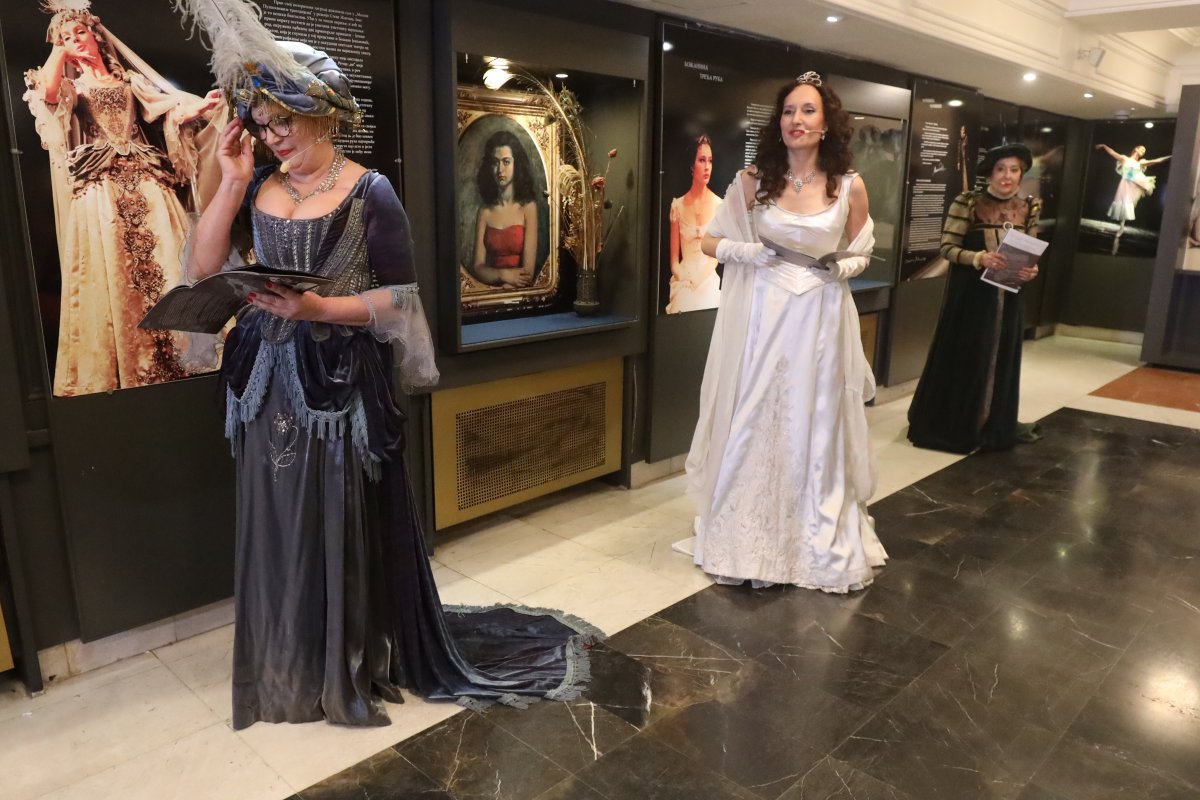 The exhibition titled "Božana – A Costume Painter" dedicated to our great costume designer Božana Jovanović (1932-2020), a virtuoso of this magical and ephemeral, and yet tangible and material art of the theatre scene - theatre costume, jointly prepared by Ivana Žigon and Dušica Knežević, was opened on June 7 at the Museum of the National Theatre.
The opening of this magnificent exhibition, with the presence of a large audience, consisted of three parts, and the first, with the music of Pyotr Ilyich Tchaikovsky and appropriate speeches given by Museum Director Dragan Stevović, Mrs. Dušica Knežević and principal ballet dancer Konstantin Kostyukov, was held at the Main Stage lobby.
Then the audience, in the company of costumed ballerinas of the National Theatre, went down to the Museum, where the opening ceremony continued, within which the former manager of the National Theatre Ivana Vujić, Mr. Stevović and the moderator of this part of the program Mirjana Barać addressed the audience.
The third act of the opening ceremony was dedicated to Božana's muses - actresses Svetlana Ceca Bojković, Tanja Bošković and Ivana Žigon. To the music of Camille Saint-Saëns, these three renowned actresses read their heart-touching dedications to Božana Jovanović published in the exhibition catalogue.
With the words: "The exhibition is open" spoken by our famous painter Nikola Žigon, the nephew of Božana Jovanović, the official part of the opening ceremony ended, and after that, with the music of Božana's favourite performers - the "Queen" and Canadian rocker Brian Adams playing from the speakers, the audience could browse through the exhibition that will be open until the end of September.
And, indeed, it is difficult to present with an exhibition of this size such a comprehensive, layered, thoughtful, developed, tangible and at the same time intangible opus and work of a great artist such as Božana Jovanović.
Božana – a costume painter who listens, watches, reads, studies, imagines and records her fantasies by painting on paper, and then, to the last detail, she designs and makes more than unimaginable five hundred costume designs for premieres (for dramas, operas, ballets) and also an unimaginable number of individual costumes of which there are sometimes several hundred per show.
Božana's exceptional career of a theatre costume designer whose true remarkableness this exhibition can neither fully conceive nor present, began in 1950 in Belgrade and lasted continuously until 2017. "Božana the magician" - as the actors, ballet dancers and singers in this exhibition most often refer to her in their warm and heart-felt letters, worked in almost all theatres in our country and region and collaborated with the greatest directors, set designers, choreographers and actors. Her guest appearances at national theatres in Moscow, St. Petersburg, Stockholm, Trieste and Berlin were also very notable.
She was employed at the National Theatre for 35 years as a costume designer (from 1965 to 2000), and the list of her premiere costume creations in this theatre ends with the impressive number 135. The number of awards she received for her work is also impressive - over thirty major awards in this creative field.
With no pretensions to include in this show everything she did, this exhibition is, above all, an emotional dedication and a deep bow to this artist of theatre and art in general; it is also a display of precious costume drawings - for this occasion collected from her family, colleagues and friends who received them from Božana and kept them; a selection of photographs that recorded Božana's collaboration with our most wonderful actors and dancers; and, finally, a handful of, no less exciting and precious, records and memoirs of collaboration with Božana written by her associates and colleagues from the theatre.
With this exhibition at the premises of the National Theatre Museum and the digitalisation of the collection of artefacts and accompanying data, for the first time we witnessed a more systematic approach to hard-to-reach materials and mostly unaddressed topic of costume design artists in theatre.
Collaborators on the realisation of this exhibition were Radomir Milić (design, layout and preparation of graphic materials), Jelena Ratković (preparation and visual material processing), Željko Jovanović (photography), Sanja Milosavljević (archive data), Jasna Saramandić (display organisation) and Vera Mekić (preparation of displayed costumes).