Two opening nights of the play "Orlando", based on the novel by Virginia Woolf, directed by Bojan Djordjev, with Dragan Sekulić and Iva Milanović in the leading roles, successfully performed on April 1 and 2 on "Raša Plaović" Stage
2 April 2021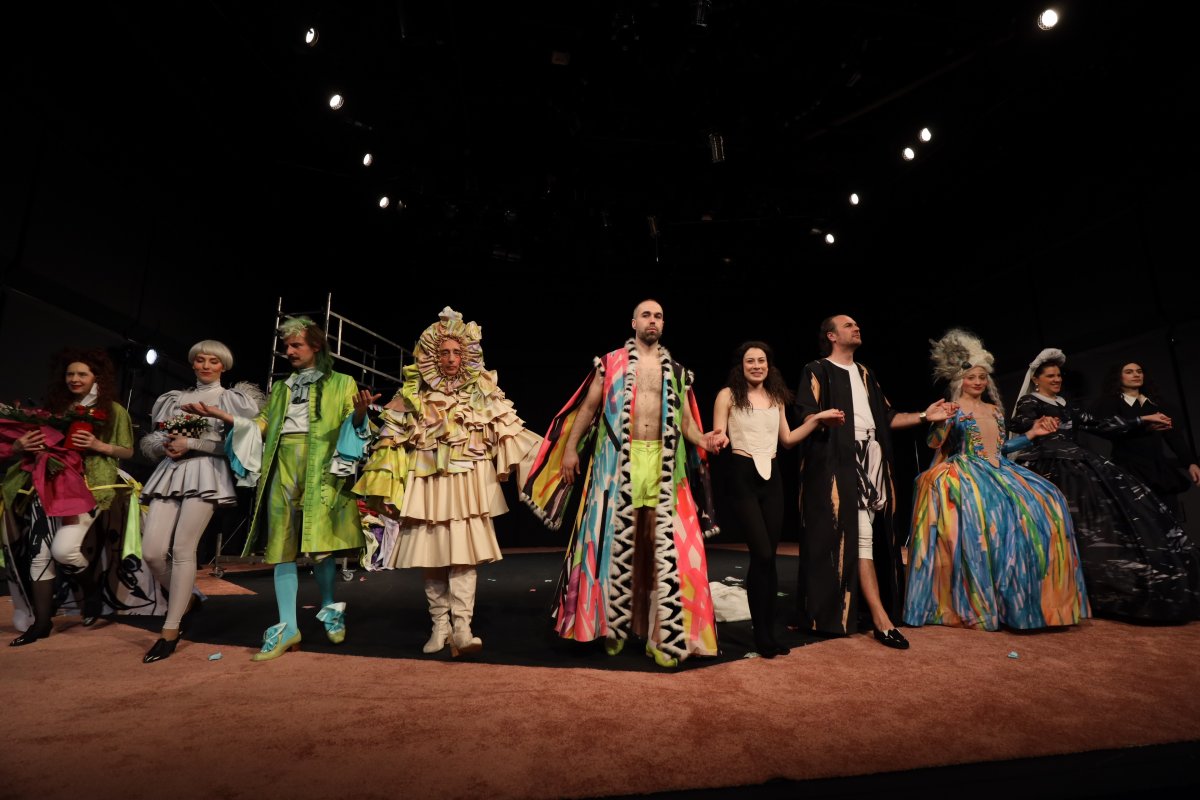 Two opening nights of the play "Orlando", based on the novel by Virginia Woolf, with dramatization made by Tanja Šljivar and additional text written by Goran Ferčec, directed by Bojan Djordjev, were successfully performed on April 1 and 2 on "Raša Plaović" Stage.
In this very intriguing play focused on exploring human identity and gender as one of the aspects of personality, on the first opening night the leading role was played by Dragan Sekulić, and a day later by Iva Milanović.
The explanation can be found in the fact that director Djordjev based his concept on the idea that an actress and an actor should interchange in playing the leading role in different performances.
Young actor Dragan Sekulić graduated from the Faculty of Dramatic Arts in the class of professor Biljana Mašić, whereas Iva Milanović is a student of the Faculty of Dramatic Arts (in the class of professor Srdjan Karanović).
This is the National Theatre first production of this famous novel about identity and society, human similarities and differences, written by this celebrated English author in 1928.
"Orlando" is also known as the longest love letter in the world, addressed to Vita Sackville-West, an aristocrat and a poet who served as a model to Virginia Woolf according to which she shaped her wonderful hero who lives forever young and after 200 years becomes a heroine and after three centuries manages to publish her poem "The Oak Tree" in the above-mentioned 1928, the year that Woolf's novel was published, whereas Ferčec's text extends this story to present day.
Dramatization of this intriguing novel, that brings to stage Virginia Woolf's lavish eloquence, her combination of English wit and humour, stream of consciousness and subtle social criticism, consists of attempts of characters from various social milieus and regions, whom Orlando encounters during his/her journey and who in one way or another fall in love with him/her, to describe him/her.
In subsequently written epilogue Orlando gets a voice of his/her own.
"We unlock this transformation from one gender identity into another in our play by a simple argument – that a man must become a woman first in order to become a man. To grow up, to transform, to renounce privileges and class, to dodge classification of time, customs, gender and to live a life free of every excess", said Bojan Djordjev who is a first-time director at the National Theatre.
The cast also includes Aleksandra Nikolić (Queen Elizabeth), Kalina Kovačević (Russian Princess Sasha), Nikola Vujović (Nick Greene), Zoran Ćosić (Romanian Archduke), Pavle Jerinić (Unnamed Turkish lover), Miloš Djordjević (Rustum the Gypsy), Vanja Ejdus (Madame du Deffand) and Sena Djorović (Nelly the Prostitute), and some of them play several roles from various social milieus and regions, all whom Orlando meets during his/her journey and who fall in love with him/her.
The atmosphere in the audience was almost identical on both nights – after the play, the audience rewarded the entire ensemble by a several-minute loud applause while shouting "bravo".
Others who participate in staging the play are Mina Milošević (dramaturgy), Siniša Ilić (stage designer), Maja Mirković (costume designer), Luka Pašić (composer), Čarni Djerić (stage movement), Dijana Marojević (stage speech), Jovan Tarbuk (digital editing of stage and costume designs), Jasna Saramandić (assistant stage designer)…
"Orlando" is performed for a limited number of viewers in compliance with the latest epidemiological measures.