"Iranian Conference" Written by Ivan Vyrypaev and Directed by Ivana Vujić Premiered on the "Raša Plaović" Stage
9 March 2022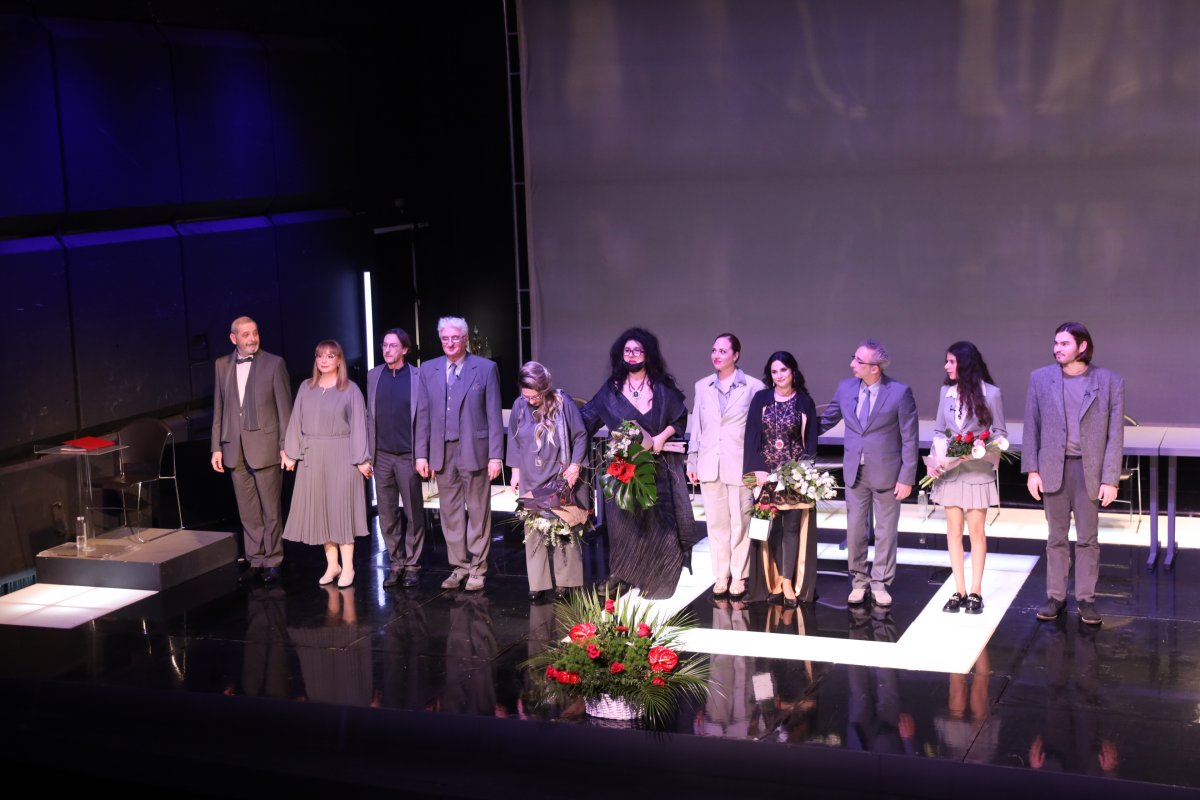 "Iranian Conference", a play by the contemporary Russian playwright, Ivan Vyrypaev, which talks about today's polarized world and the present time, but also anticipates the future, premiered on March 9 on the "Raša Plaović" Stage, directed by Ivana Vujić.
The plot of the play is set at a scientific conference dedicated to the complex relationship between the two cultures - "East" and "West", or as one of the protagonists says in his introductory speech: "the battle between Allah and Coca-Cola".
In the conference hall of the University of Copenhagen, various participants, members of the international cultural elite, take turns behind the podium.
Despite the sterile atmosphere of a scientific gathering, the seriousness and topicality of the issue, the protagonists of the play, driven by their characters and motives, gradually abandon the prepared presentations, cross the boundaries of codified conventions of scientific presentation, immerse themselves in personal and private relations so that they can, exposed like that, talk about the most significant issue that ever stood before humanity: and that is a man's place in the world and the very meaning of life.
The roles were played by Vanja Milačić (Philipa Rasmussen), Zoran Ćosić (Daniel Christensen), Gojko Baletić (Oliver Larsen), Bogdan Bogdanović (Magnus Thomsen), Maja Kundačina (Astrid Petersen), Radmila Živković (Emma Schmidt Paulsen), Slobodan Beštić (Gustav Jensen), Bojana Bambić (Sister Augustina), Nebojša Kundačina (Pascual Andersen), Vjera Mujović (Shirin Shirazi), Iva Milanović (Mathilde Hansen, via video call), Teodora Dragićević (Katrine Johansen, via video call) and Dušan Spasić (Cameraman).
The play was translated by Sanja Milić.
Director Vujić did the conceptual design of the scenography and selected the music, the dramaturge is Ljubinka Stojanović, and the creative team also includes Dušica Knežević (costume designer), Ljiljana Mrkić Popović (stage speech), Sonja Vukićević (stage movement), Svetlana Volic (video work) and Jasna Saramandić (set design organiser).
Collaborators on the play are Nemanja Konstantinović, Olivera Živković (producers), Saša Tanasković (stage manager), Marija Nedeljkov (prompter) and Andrea Kargačin (assistant director in training).
"Iranian Conference", written by Vyrypaev in 2017, won the "Golden Mask" Award for the best play in Russia. This is the first performance of this play in Serbia.
The first rerun will be held on March 13 at 8:30 p.m.