AT THE ETERNAL TAP INN PREMIERES ON "RAŠA PLAOVIĆ" STAGE
16 April 2014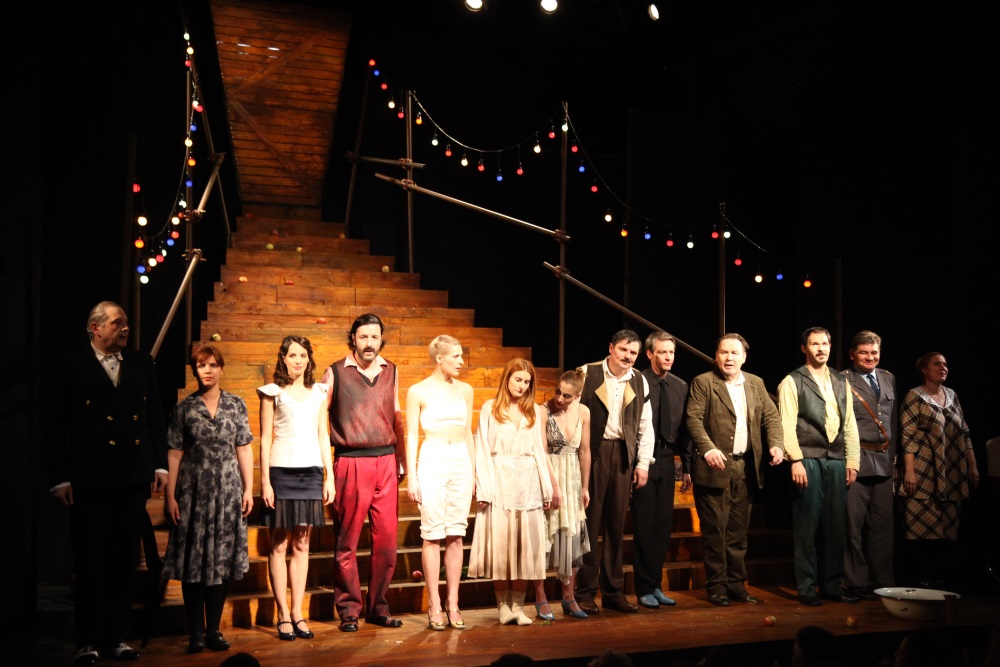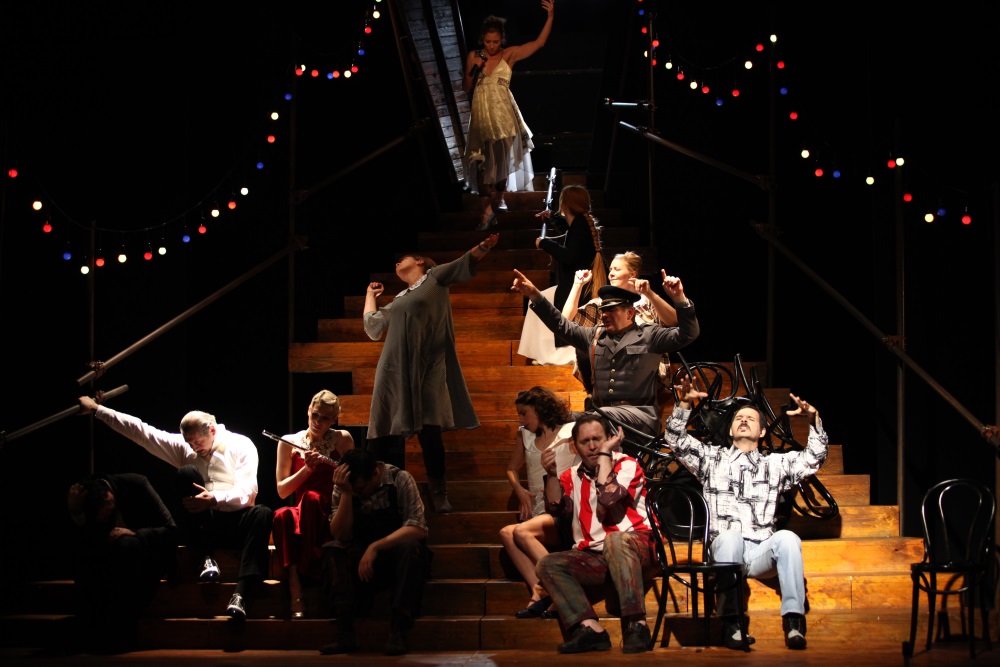 Production At the Eternal Tap Inn, after the play by Momčilo Nastasijević, adapted by Slobodan Obradović and directed by Milan Nešković, premiered on the "Raša Plaović" Stage on Wednesday, 16th April.
The very first production of the play, not only in the National Theatre, but also in Belgrade, was well received by audience, who showed their appreciation to the ensemble with a cordial applause.
The play focuses on a tragic, incestuous, love between relatives, which causes a conflict between the two families, while lives of people from a village unite in the inn. Nastasijević wrote the play in 1929; in the production, the plot starts in present time, then events of 40 years ago and 70 years ago follow…
In this play, in which the author portrays a story charged with curse of blood and sin that, just like in a Greek tragedy, is passed on from parents to children, the roles are interpreted by Aleksandar Srećković (A Man from Sirča / Father and Son), Boris Pingović (A Man from Podolje / Father and Son), Vanja Ejdus (Magdalena), Hana Selimović, guest artist (Aunt Tina), Nebojša Dugalić (Ćopa), Nenad Stojmenović (Roman), Dimitrije Ilić (Uncle Jole), Branko Vidaković (A Drunkard), Ivana Šćepanović (A woman from Sirča), Dejana Miladinović (A woman from Podolje), Nebojša Kundačina (Rapa), Minja Peković, guest artist (Smilja) and Nada Macanković, guest artist (Cvetana).
The production team members are Molina Udovički Fotez (Dramaturge), Vesna Popović (Set Designer), Tamara Bušković (Costume Designer), Vladimir Pejković (Composer), Radovan Knežević (Stage Speech), Tatjana Popović (Stage Movement), Barbara Tolevska (Organiser), Sandra Rokvić (Stage Manager), Sandra Todić (Prompter) and Milena Debeljković (Organiser in training).
M.B.
Click HERE to see photographs from the premiere