THE HUNDREDTH PERFORMANCE OF DEATH AND THE DERVISH ON MAIN STAGE 3 JUNE
28 May 2015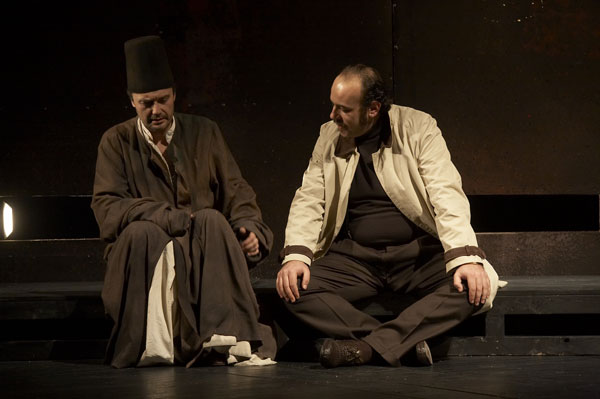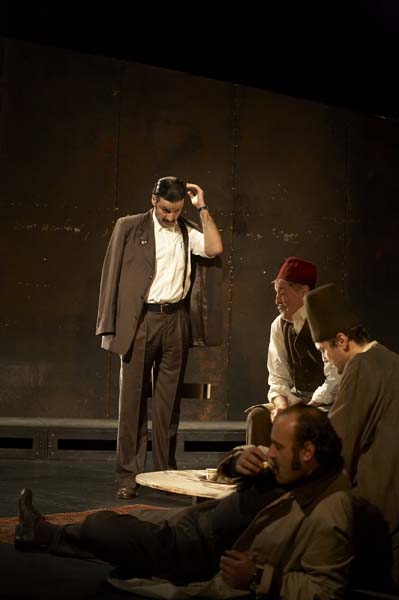 A jubilee performance of Death and the Dervish, based on the novel of the same name written by Meša Selimović, dramatised by Borislav Mihajlović Mihiz and adapted and directed by Egon Savin, will be given for one hundredth time on Wednesday, 3 June.
The production premiered on the Main Stage on 27th December 2008. In the staging, the plot takes place in more recent past than originally written in the novel, where it takes place during the rule of Ottoman Empire in Bosnia.
The plot in the stage production takes place in 1950s when Meša's brother Šefkija Selimović was apprehended and shot because he took several pieces of furniture from "confiscated belongings of enemy" in order to furnish his own apartment which was completely looted during the war. His pointless death inspired Meša Selimović to write a story about brotherly devotion and a man's illusion that it is possible to defend truth with religious dogma in a world where repressive mechanisms of power rule.
By placing the plot in not so distant past, Savin staged a politically engaged play that presents the post war Yugoslavia when Broz ruled and when a variety of "party comrades" were central figures; the "comrades" had the power to make decisions about life and death of individuals…
The premiere cast: Nikola Ristanovski (Ahmed Nurudin), Nenad Stojmenović (Mula Jusuf), Aleksandar Đurica (A Fugitive – Unknown), Ljubomir Bandović (Hasan Dželebdžija), Nataša Ninković (Kadi's Wife), Boris Pingović (Muselim), Zoran Ćosić (Spy), Slobodan Beštić (Kadi), Marko Nikolić (Hadži Sinanudin), Nebojša Kundačina (Jailor), Tanasije Uzunović (Kara Zaim), Darko Tomović (Miralay Osman Bey), Miodrag Krivokapić (Secretary), Marko Janketić (Young Man), Igor Ilić (Dervish) and Željko Grozdanović (Dervish).
In the meantime, there have been either permanent or occasional alterations in the cast that include Bojan Krivokapić, Branko Jerinić, Aleksandar Srećković, Ivana Šćepanović, Dušan Milosavljević, Miloš Marijan, etc.
More than 36,500 people saw performances of Death and the Dervish either in the National Theatre or during numerous tours in the country and abroad (Požarevac, Kragujevac, Novi Sad, Užice, Zenica, Maribor, Kopar, Rijeka, Pula, Podgorica, Skopje, Budapest, Vienna, etc.) in the course of seven and a half years since its premiere.
The production has received nothing but praises from audiences and critics, as well as numerous awards (Best Performance in Joakim Fest, Best Performance in VIII Festival of Bosnian and Herzegovinian Drama, Best Performance in the Theatre in a Single Act Festival…).
Željko Jovanović assessed that the production "will become one of top productions in our theatre for its precision, director's inventiveness and skilled acting, such as Nikola Ristanovski's interpretation of Ahmed Nurudin," while his colleague Vladimir Stamenković believes that Death and the Dervish is a remarkable piece in which "all components – acting, set design, lighting design, music – have been successfully coordinated."
M.B.