The Play "Fathers and Forefathers" Premiered on the Main Stage
4 April 2023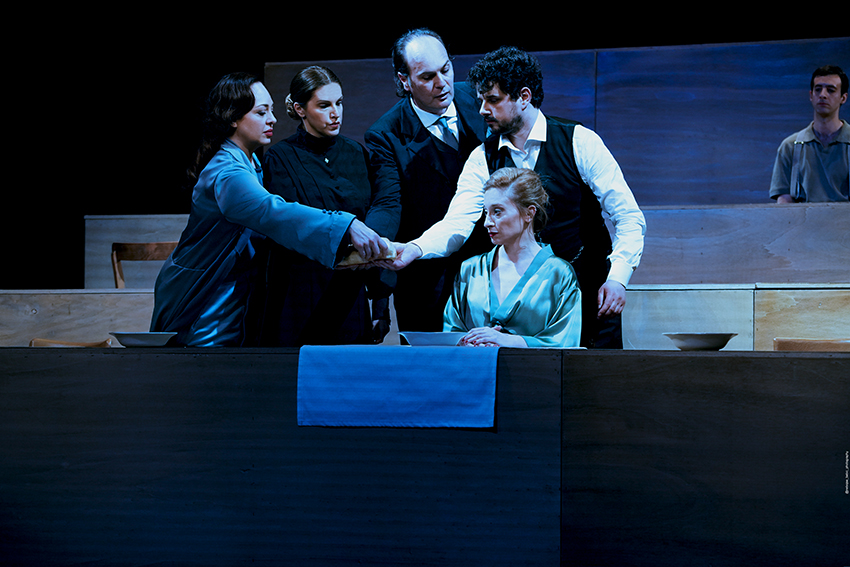 The play "Fathers and Forefathers", based on the novel of the same name by Slobodan Selenić, dramatized by Kata Gyarmati and directed by Veljko Mićunović, premiered on April 4 on the Main Stage.
This is an adaptation of one of the most significant works of contemporary Serbian literature, in which the family and social drama of an era are intertwined.
The novel "Fathers and Forefathers", imbued with an extreme emotional charge, synthesises the national experience and establishes a rational view of the corpus of topics that most frequently appear when reflecting on the status of the Serbian real and mythical situation. Although he does not accept romanticising the past, Selenić neither despise it nor disputes it...
Describing the fate of the Medaković family of Belgrade intellectuals, in the period from 1890 to the end of the World War II, in 1945, one of our most significant playwrights gives an account of the Serbian history of that period, through the eyes of the civic elite of that time.
The focus of the play is the story of legacy and different ideologies within this family - the grandfather is a monarchist, the father is a democrat, and the son is a true new communist...
After some hour and a half of a very inspired acting, the packed audience greeted the cast with several minutes of thunderous applause and shouts of "bravo".
This is the first production of Selenić's tragic family saga, published in 1985, at the National Theatre in Belgrade.