Puccini's "Turandot" premiered on the Main Stage with a Standing Ovation
23 December 2022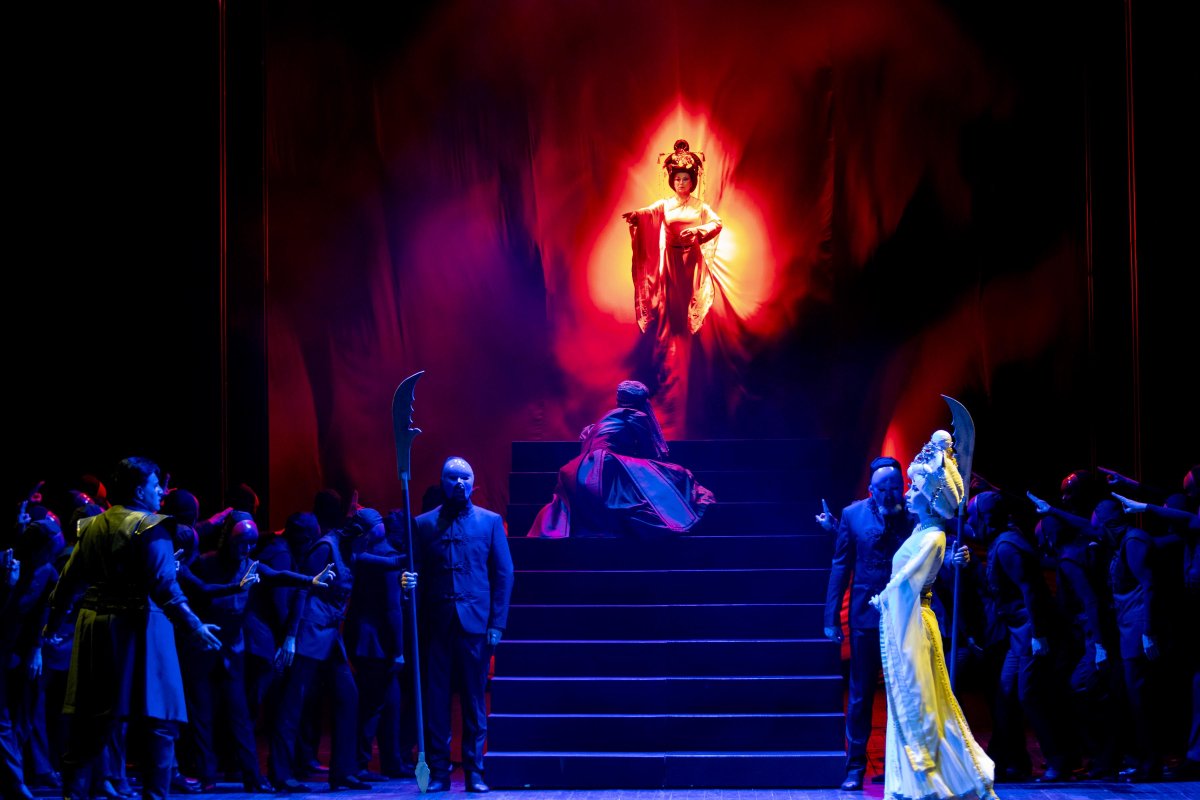 The opera "Turandot" by the famous Italian composer Giacomo Puccini premiered on December 23 on the Main Stage of the National Theatre in Belgrade.
It was, indeed, an unforgettable operatic evening. A true spectacle for the eyes and soul, with an all-encompassing, timeless stylistic approach full of fabulous costumes, with scenography interwoven with fluid and multi-purpose stage elements and superb light effects. There is no doubt that many will see this performance, worthy of the world's greatest opera stages, several times.
After a three-hour performance at the highest artistic level, accompanied by frequent applause on the open stage, the thrilled audience in the packed auditorium gave a ten-minute standing ovation shouting "bravo" to send off the entire team led by the experienced guest conductor Stefano Romani, the young and very talented director Mario Pavle del Monaco and the incredible soprano Jasmina Trumbetaš Petrović in the title role. In this operatic masterpiece, co-produced by the National Theatre in Belgrade and the Madlenianum Opera and Theatre (which have already staged several very successful joint productions) the roles were also played by Ermin Asćerić (Emperor Altoum/ Prince of Persia), Dragoljub Bajić (Timur), Rosario La Spina (Calàf), Snežana Savičić Sekulić (Liù), Vladimir Andrić (Ping), Darko Đorđević (Pang), Stefan Živanović (Pong), Milan Obradović (Mandarin) and ballerina Milica Jević Drndarević (the ghost of Princess Lou-Ling).
The Choir and Orchestra of the National Theatre in Belgrade also participate in the performance.
In addition to the conductor, the international part of the creative team also includes William Orlandi (set and costume designer), Wolfgang von Zoubek (lighting designer) and assistant costume designer Francesco Bonatti.
The choreographer was Miloš Kecman, the expert collaborator on the performance was Ivana Dragutinović Maričić, the concertmasters were Edith Makedonska and Vesna Janssens, the head of the Choir was Đorđe Stanković, while the singers, in addition to maestro Romani, were also prepared by the conductor Đorđe Pavlović.
The premiere in Madlenianum is scheduled for Friday, December 30 at 7:30 p.m., and in the somewhat changed cast of soloists the audience will see Jasmina Trumbetaš Petrović, Ermin Asćerić, Ivan Tomašev, Janko Sinadinović, Sofija Pižurica, Ljubodrag Begović, Mladen Prodan, Siniša Radin, Milan Obradović and ballerina Milica Jević Drndarević.