"Alice", a Ballet Choreographed and Directed by Dejan Kolarov, Premiered on the Main Stage
25 October 2021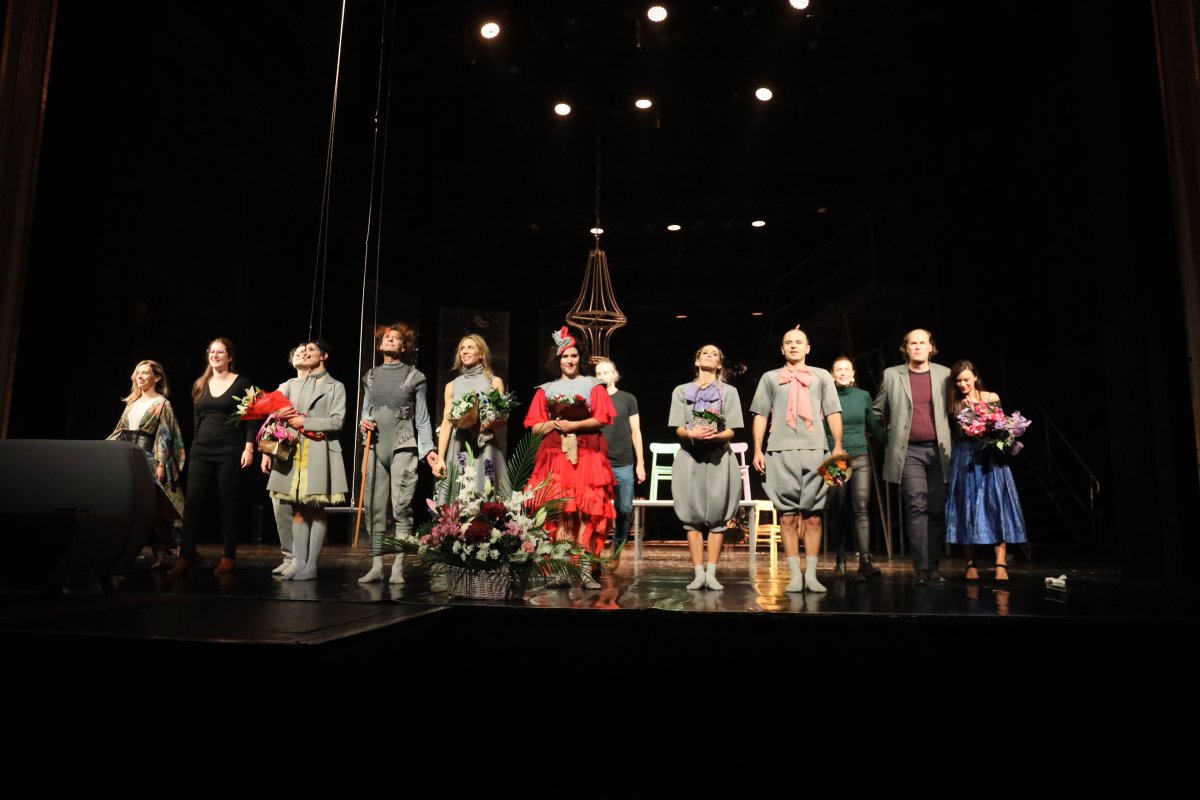 "Alice", a ballet show choreographed and directed by Dejan Kolarov, inspired by the famous children's adventure and fantasy novel "Alice in Wonderland" by Lewis Carroll, premiered on October 25 on the Main Stage with the participation of players and actors within "Young Choreographers" project.
"Alice" was based on the imagination of the entire artistic team and as the starting point for his work on this one-act modern ballet the author took the idea that nowadays, given everything that surrounds us, a man with imagination is a happy man.
"Lewis Carroll reminds us that it is quite all right that we sometimes take a peek outside the box. In a world in which nothing makes sense and in which, anyhow, all sorts of boxes are being put on us constantly and from all sides, the most senseless thing would be for us not to even try to set free from all that. To be free and to feel good – those are the most expensive things nowadays. And how can we feel good, or – what is this show about? Alice is a girl with imagination. It is that forgotten power that we push aside and call childish, but Alice uses it in order to get to know and accept all parts of her being. The most important thing is to be true and fair to oneself. Otherwise, we fall through a rabbit's hole and nothing makes sense anymore. Let's be free, and crazy, and joyful. Because that's fair", Dejan Kolarov stated in the programme for "Alice" ballet show that represents a combination of dramatic art, modern dance and stage movement.
The lead role in this play about a single person, a girl, a woman who fights with her demons, in her own darkness while looking for light, is played by Milica Jević Drndarević, and the voice for her character was given by actress Vanja Ejdus.
The Cheshire Cat was played by Slobodan Beštić, the Queen was Aleksandra Bibić Kolarov, the Caterpillar was played by Nikola Bianco (the voice of Nenad Stojmenović), the Cook – Olga Oldjan (the voice of Nikola Vujović), the Twins – Sanja Ninković and Miloš Kecman (the voices of Bojana Stefanović and Miloš Đorđević).
At the end of the show, the audience gave the performers huge applause that lasted several minutes.
Aleksandra Bibić Kolarov is also the assistant choreographer and assistant director, and the team of authors also consists of Ana Krstajić (composer), Mina Ćirić (dramaturge), Srđan Perić (costume designer), Milan Kolarević (lighting designer) and Jasna Saramandić (set designer).
The first reprise performance will be held on November 5.
"Young Choreographers" project was launched several years ago by the Ballet Management of the National Theatre in Belgrade with the aim to provide an opportunity to and make room for young and creative ballet artists.