THE MIRACLE IN ŠARGAN, DRAMA WRITTEN BY LJUBOMIR SIMOVIĆ AND DIRECTED BY EGON SAVIN, PREMIERS ON THE MAIN STAGE
20 February 2015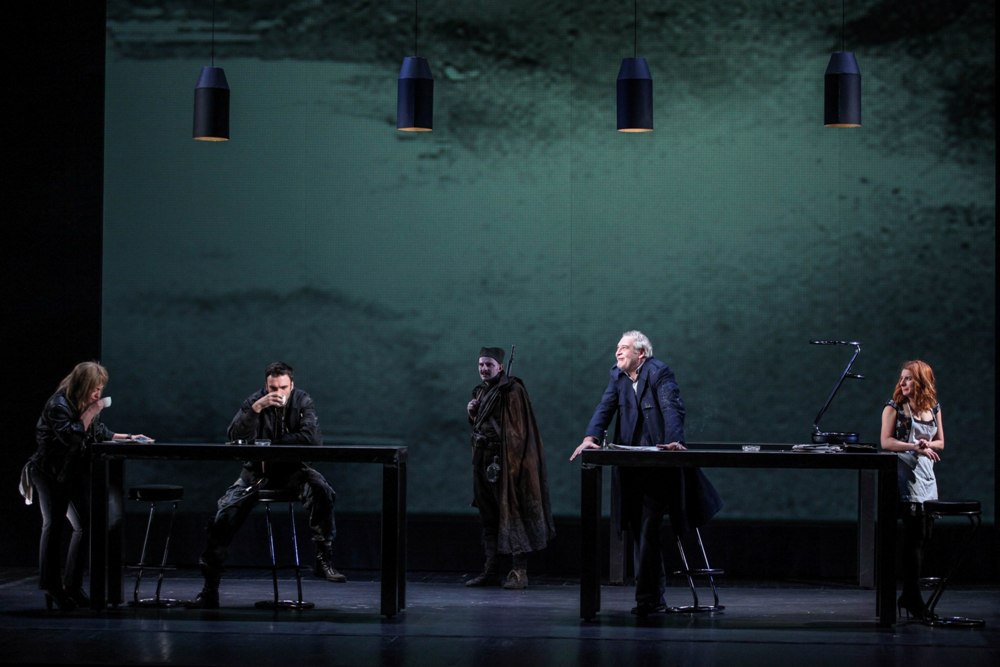 The Miracle in Šargan, a play written by Ljubomir Simović, directed and adapted by Egon Savin, premiered on the Main Stage on Friday, 20th February.
In this play, which possesses the spirit of poetic realism and, at the same time, is a tragic and amusing, realistic and amazing piece, the roles are interpreted by Dušanka Stojanović Glid (Ikonija), Nataša Ninković (Gospava), Hana Selimović (Cmilja), Ivan Bosiljčić (Anđelko), Aleksandar Đurica (Mile), Nebojša Kundačina (Stavra), Predrag Ejdus (Beggar), Branko Vidaković (Vagabond), Sloboda Mićalović (Jagoda), Boris Pingović (Vilotijević), Bojan Krivokapić (Investigator), Aleksandar Srećković (Manojlo) and Nikola Vujović (Tanasko).
The audience rewarded the cast with a long, cordial applause and ovations in the end of the performance. Mr. Simović and his wife were present as well.
The plot of The Miracle in Šargan takes place in an inn at the outskirts of a town, where marginal people gather, trapped somewhere between a village and a town.
The thing these people have in common, except the Šargan Inn, is the anguish that each one of them carries within and brings to this strange inn.
Thus, the inn becomes a gathering point for waitresses, prostitutes, politicians, beggars, vagabonds, former convicts, etc.
The parallel plot is about two Great War warriors, who, although dead for a long time, are still searching for justice, thus arriving into the present time.
Extraordinary character, who links the two parallel plots, is a vagabond who possesses supernatural power to take wounds and pains of other people upon himself…
In Šargan, despair is rooted so truthfully and deeply into the truth about life; while the authenticity is almost brought to truth, it is packaged paradoxically in a poetical metaphoric language.
Savin's adaptation and stage directing primarily focused on the social despair and its consequences.
This is a universal drama, which asks ultimate questions in a complex way and concentrates on happiness and misery, having and non-having, dreams and reality.
All of this has been presented within unfortunate political destiny of the collective, the nation that sacrificed too many people in past wars…
Slavko Milanović is the dramaturge, Geroslav Zarić designed the set, Bojana Nikitović designed the costumes, while Vladimir Petričević was in charge of video and sound design.
Radovan Knežević is the speech instructor, Belinda Božičković is the assistant stage director (in training), Jasmina Urošević/Natalija Ignjić are the organisers, Ista Stepanov is the associate in charge of stage movement, Vladislava Kanington is the assistant set designer, Sanja Ugrinić Mimica/ Sandra Žugić Rokvić are the stage managers, Jelena Halupa is the prompter and Borislav Balać is the producer.
M.B.
Click HERE to see the photographs from the premiere